The Arrest: A Novel (Hardcover)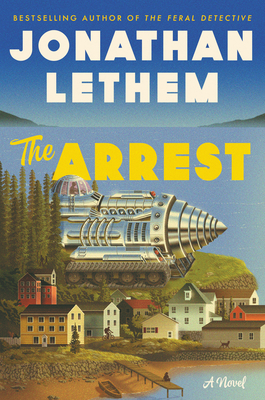 $27.99
Email orders@greenlightbookstore.com for information about this item.
Description
---
From the award-winning author of The Feral Detective and Motherless Brooklyn comes an utterly original post-collapse yarn about two siblings, the man that came between them, and a nuclear-powered super car.
The Arrest isn't post-apocalypse. It isn't a dystopia. It isn't a utopia. It's just what happens when much of what we take for granted—cars, guns, computers, and airplanes, for starters—quits working. . . . 
Before the Arrest, Sandy Duplessis had a reasonably good life as a screenwriter in L.A.  An old college friend and writing partner, the charismatic and malicious Peter Todbaum, had become one of the most powerful men in Hollywood. That didn't hurt. 
Now, post-Arrest, nothing is what it was. Sandy, who calls himself Journeyman, has landed in rural Maine. There he assists the butcher and delivers the food grown by his sister, Maddy, at her organic farm. But then Todbaum shows up in an extraordinary vehicle: a retrofitted tunnel-digger powered by a nuclear reactor. Todbaum has spent the Arrest smashing his way across a fragmented and phantasmagorical United States, trailing enmities all the way. Plopping back into the siblings' life with his usual odious panache, his motives are entirely unclear.  Can it be that Todbaum wants to produce one more extravaganza? Whatever he's up to, it may fall to Journeyman to stop him. 
Written with unrepentant joy and shot through with just the right amount of contemporary dread, The Arrest is speculative fiction at its absolute finest.
About the Author
---
Jonathan Lethem is the bestselling author of twelve novels, including The Arrest, The Feral Detective, The Fortress of Solitude, and Motherless Brooklyn, winner of the National Book Critics Circle Award. He currently teaches creative writing at Pomona College in California.
Praise For…
---
"Jonathan Lethem has created in The Arrest an allegorical tale full of isolation and rejuvenation fitting for 2020. . . . Lethem is comfortable in his prose, having fun with this novel. . . . In a testament to Lethem's skill as a writer, he hones the novel into an enjoyable vehicle running smoother than that nuclear-powered tunnel digger." — Austin Chronicle
"The Arrest is a speculative wonder, a joyfully shaggy and unapologetic page-turner of a tale. It is that rare work that manages to be both optimistic and pessimistic at the same time, somehow evoking all sides of what happens after the end. Simultaneously a celebration and condemnation of human nature, it's a compelling read from one of his generation's finest writers." — The Maine Edge 
"There are all of the expected and welcome pleasures of reading Lethem: his intellect, dialogue and wry humor…as with so much of his work, [The Arrest] is inventive, entertaining and superbly written." — New York Times Book Review
"As a writer gifted at playing with genre forms and riffing on popular culture, (Lethem) enjoys tweaking dystopian-novel conventions." — USA Today
"An impeccably executed, moving, and wildly inventive tale of madness and narrative at the end of the world. Lethem is at the top of his game."  — Emily St. John Mandel, author of The Glass Hotel and Station Eleven
"Lethem cleverly builds on and subverts the tropes of postapocalyptic dystopias, mixes in a metafictional element, and expertly mines the nature of storytelling and its power to enchant. An inventive and intelligent speculative tale."  — Booklist
"The Arrest is a novel that defies description in the best possible way, which makes it quintessentially a work of Jonathan Lethem's at his most sublime. It's an organic tale of the apocalypse, a Hollywood parable, and a fable of survival and surrender. The prose crackles, the jokes land hard and fast, and the story's heart is sensationally large. Spectacularly imaginative but grounded in humanity and hope—The Arrest is a perfect novel for this moment and future ones." — Ivy Pochoda
"Put down your phone and read The Arrest. It feels as though it was written a hundred years from where we are now,  in a new human context, but retrospectively inevitable, by someone with a pen trying to imagine the moment that everything became different.  Included in the price, Lethem, with wit and suspense,  also gives us a Hollywood novel, a love story, and a teenage gizmo novel about a ride across  the country in the coolest atomic car ever.  If I say anymore I will say too much."  — Michael Tolkin
"Rarely has a novel approached the sheer pleasure of The Arrest. This is a dystopian novel in thrall to its own genre, full of knockabout comic book bravado, with regular knowing nods to literary and cinematic history. It is, in short, a blast." — The Observer (London)
"[An] exuberantly clever and knowing post-apocalyptic dystopia. . . . [Lethem is] a writer of abundant literary gifts who applies them with unapologetic enthusiasm. . . . Extremely strange, twistily plotted, fizzingly written . . . and lingeringly mysterious." — Telegraph (UK)