Wild City: A Brief History of New York City in 40 Animals (Hardcover)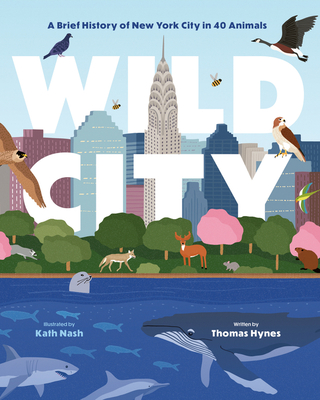 Description
---
An illustrated guide to 40 of the most well-known, surprising, notorious, mythical, and sublime non-human citizens of New York City, and love letter to its surprising ecological diversity. 

From refugee parrots and prodigal beavers to gorgeous Fifth Avenue hawks and vengeful groundhogs, Wild City tells the funny, quirky, and memorable stories of forty of New York City's most surprising nonhuman citizens. This unconventional wildlife guide and concise environ­mental history of the Big Apple includes tales of the well-known, notorious, and legendary creatures who are as much New Yorkers as their human counterparts.
A celebration of some of the city's most surpris­ing residents and a love letter to this always evolv­ing metropolis, Wild City is an enchanting illustrated volume that is a must-have for every Big Apple devotee and animal lover.
About the Author
---
Thomas Hynes is a writer who lives in Brooklyn Heights with his wife, Veronica, and their dog, Ladybug. His work has been featured in Sierra Club, The Awl, the Travel Channel's Mysteries at the Museum, Gothamist, Business Insider, McSweeney's Internet Tendency, PRWeek, and Untapped New York.