Dimension Why #1: How to Save the Universe Without Really Trying (Hardcover)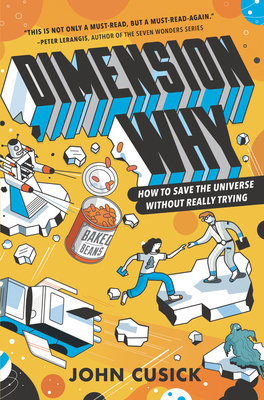 Other Books in Series
This is book number 1 in the Dimension Why series.
Description
---
A 31st-century boy and a 21st-century girl team up to save the universe, evade an evil race of bog mutants, and make a quick pit stop to visit the moon in Dimension Why.
John Cusick's middle grade debut will transport you to a vast fantasy world full of absurd humor that will keep you gasping all the way to the twist ending
.Lola Ray was a normal 21st-century girl until a poorly timed sneeze in an X-ray machine flung her a thousand years into the future. To get back home, she'll have to team up with Phineas T. Fogg, a 31st-century boy whose only friend up until now has been his talking teddy bear and whose overprotective parents have never let him leave his high-tech apartment.
Together, Lola and Phin will have to cross the galaxy, brave a mysterious invitation to tea, and escape a race of all-powerful interdimensional beings who are convinced that Lola knows the answer to the universe's biggest question . . . the question of The End.
About the Author
---
John Cusick is an author and literary agent. He lives in Brooklyn with his wife and a large orange cat named Donut. Records indicate he was born in Worcester, Massachusetts. There is no hard evidence to suggest Mr. Cusick is from outer space, and frankly we don't know how these rumors get started.
Praise For…
---
"Cusick creates a well-balanced narrative. While levity lightens the load—and the story is legitimately funny—the focus remains on a perfectly paced adventure. A promising series debut." — Kirkus Reviews
"Budding sci-fi fans and humor aficionados are bound to team up for this hysterical intergalactic adventure." — Bulletin of the Center for Children's Books