Here's Your Hat What's Your Hurry: Stories (Art of the Story) (Paperback)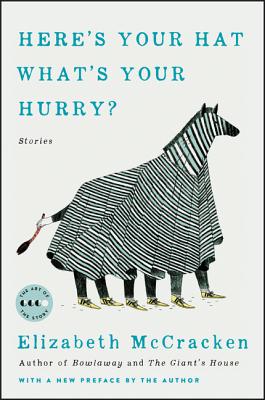 Here's Your Hat, What's Your Hurry may be Elizabeth McCracken's debut, but it is full to the brim with all of the heart, humor, and wonderful quirkiness that she's become known for since. The characters who grace the pages of these stories are some of the most unique I've ever encountered, each one of them displaying the absolute strangeness and beauty of being human in a new and exciting way.
Picked by Katie in Fort Greene
Description
---
The singular, enchanting debut story collection from Elizabeth McCracken, now back in print as part of Ecco's "Art of the Story" series, and with a new introduction from the author

Called "astonishingly assured" by The Guardian, the nine stories that make up Elizabeth McCracken's debut story collection deal with oddball characters doing their very best to forge connections with those around them.
In "It's Bad Luck to Die" a woman marries an older tattoo artist and finds comfort in agreeing to act as a canvas for his most elaborate work. "Some Have Entertained Angels, Unaware" follows a young girl as she comes face to face with a cast of eccentrics her recently-widowed father has invited to live in their expansive but dilapidated home. And in the title story, a young man and his wife are perplexed when an outspoken old woman shows up on their doorstep for a visit, claiming to be a distant aunt, even though she can't be traced on a family tree.
At once captivating and offbeat, Here's Your Hat What's Your Hurry is a dazzling showcase of the early years of Elizabeth McCracken's prodigious talent.
About the Author
---
Elizabeth McCracken is the author of six books, including Bowlaway, Thunderstruck & Other Stories (winner of the 2014 Story Prize and long-listed for the National Book Award), and The Giant's House (a National Book Award finalist). Her stories have appeared in Best American Short Stories, won three Pushcart Prizes, a National Magazine Award, and an O. Henry Prize. She has served on the faculty at the Iowa Writers' Workshop and currently holds the James Michener Chair for Fiction at the University of Texas at Austin.