Future Home of the Living God: A Novel (Hardcover)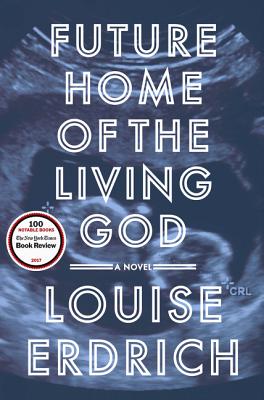 $28.99
Email orders@greenlightbookstore.com for information about this item.
Staff Reviews
---
December 2017 Greenlight First Editions Club Selection
Everyone wants to be the heroine of their own life but it's hard when everything personal turns upside down. This book takes a mysterious place among the likes of Octavia Butler's Parable of the Sower and Naomi Shihab Nye's poetry. She must almost be a saint herself in order to survive the mess laid out before her. Almost immediately you're swept up by the fears of a poor, young, and pregnant woman making her way in the climate change havoc world. This novel is rooted in how indigenous identity frames every experience you have - raising more questions than answers in Erdrich's distinctive prose-style. 
— Jackie
December 2017 Indie Next List
---
"Powerful, prophetic, and absolutely pertinent to our times, Louise Erdrich's new novel, Future Home of the Living God, is a horrifying, haunting story about the lengths the government will go to control women's reproductive rights and ensure the success of mankind as we know it. Riveting, repulsive, and revealing at the same time, Erdrich captures the essence of Margaret Atwood's The Handmaid's Tale and spins a new twist sure to tantalize and terrorize readers' thoughts and play on their fears. Once again, Erdrich challenges societal constraints and conceives a novel guaranteed to leave you guessing. I highly recommend it!"
— Kristin Bates, McLean & Eakin Booksellers, Petoskey, MI
Winter 2018 Reading Group Indie Next List
---
"The Margaret Atwood parallels in this novel are unavoidable; however, Future Home of the Living God certainly holds its own. As bleak as the subject matter is, Erdrich also investigates hope, belief, and what it means to be human in a world where humans may no longer be recognizable as such. Erdrich handles the speculative elements beautifully and with a light touch, as the ultimate story is one of motherhood, identity, community, and finding meaning in a world of rapid change."
— Kaisha Khalifeh, The Open Book, Bend, OR
Description
---
A New York Times Notable Book
Louise Erdrich, the New York Times bestselling, National Book Award-winning author of LaRose and The Round House, paints a startling portrait of a young woman fighting for her life and her unborn child against oppressive forces that manifest in the wake of a cataclysmic event.
The world as we know it is ending. Evolution has reversed itself, affecting every living creature on earth. Science cannot stop the world from running backwards, as woman after woman gives birth to infants that appear to be primitive species of humans. Twenty-six-year-old Cedar Hawk Songmaker, adopted daughter of a pair of big-hearted, open-minded Minneapolis liberals, is as disturbed and uncertain as the rest of America around her. But for Cedar, this change is profound and deeply personal. She is four months pregnant.
Though she wants to tell the adoptive parents who raised her from infancy, Cedar first feels compelled to find her birth mother, Mary Potts, an Ojibwe living on the reservation, to understand both her and her baby's origins. As Cedar goes back to her own biological beginnings, society around her begins to disintegrate, fueled by a swelling panic about the end of humanity.
There are rumors of martial law, of Congress confining pregnant women. Of a registry, and rewards for those who turn these wanted women in. Flickering through the chaos are signs of increasing repression: a shaken Cedar witnesses a family wrenched apart when police violently drag a mother from her husband and child in a parking lot. The streets of her neighborhood have been renamed with Bible verses. A stranger answers the phone when she calls her adoptive parents, who have vanished without a trace. It will take all Cedar has to avoid the prying eyes of potential informants and keep her baby safe.
A chilling dystopian novel both provocative and prescient, Future Home of the Living God is a startlingly original work from one of our most acclaimed writers: a moving meditation on female agency, self-determination, biology, and natural rights that speaks to the troubling changes of our time.
About the Author
---
Louise Erdrich, a member of the Turtle Mountain Band of Chippewa, is the award-winning author of many novels as well as volumes of poetry, children's books, and a memoir of early motherhood. Erdrich lives in Minnesota with her daughters and is the owner of Birchbark Books, a small independent bookstore. 
Praise For…
---
"Erdrich's inclusiveness, her expansive vision of humanity surprises and pleases on every page…Erdrich's virtuosity reminds me of an eagle in flight…Her wisdom blossoms from multicultural sources and is always inviting the reader in, in, to deeper understanding and identity." — Hudson Review
"A streamlined dystopian thriller…Erdrich's tense and lyrical new work of speculative fiction stands shoulder-to-braced-shoulder right alongside The Handmaid's Tale." — Maureen Corrigan, NPR's Fresh Air
"Erdrich stuns again in Future Home of The Living God…She grounds her story in a kind of sharply drawn reality that makes the standard tropes of dark futurism that much more unnerving…Erdrich is a writer whose words carry a spiritual weight far beyond science, or fiction." — Entertainment Weekly
"Erdrich is a seer, a visionary whose politics are inextricable from her fiction…[Future Home of the Living God] is an eerie masterpiece, a novel so prescient that though it conjures an alternate reality, it often provokes the feeling that, yes this is really happening."  — O, The Oprah Magazine
"In this fast-paced novel, rapid and catastrophic changes to human reproduction make the survival of the race uncertain…Erdrich imagines an America in which winter is a casualty of climate change, borders are sealed, men are 'militantly insecure,' and women's freedom is evaporating…Vivid…Compelling." — New Yorker
"Smart and thrilling…the book reads like an alternate history of our anxious current moment…Erdrich's storytelling is seductive." — Vanity Fair
"A fascinating new novel, which describes a world where evolution is running backward and the future of civilization is in doubt." — New York Times Book Review
"Philosophical yet propulsive…Future Home of the Living God is as much a thriller as it is a religious-themed literary novel — it thrives on narrow escapes, surprise character appearances, and a perpetual sense of peril…effective and cannily imagined." — USA Today
"We recognize…the same miasma of anxiety and unease that Americans now breathe. This is fiction, of course; the details are not from our world. But the sensation is…Vivid and suspenseful…Once Cedar is imprisoned, the story turns thrilling." — Boston Globe
"Masterful…a breakout work of speculative fiction…Erdrich enters the realm of Margaret Atwood's The Handmaid's Tale…A tornadic, suspenseful, profoundly provoking novel of life's vulnerability and insistence…with a bold apocalyptic theme, searing social critique, and high-adrenaline action." — Booklist, Starred Review
"[A] startling new work of speculative fiction…strikingly relevant. Erdrich has written a cautionary tale for this very moment in time." — Publishers Weekly, boxed review
"A dazzling work of dystopian fiction a la Handmaid's Tale." — Real Simple
"Propulsive, wry, and keenly observant…this chilling speculative fiction is perfect for readers seeking the next Handmaid's Tale." — Library Journal
"An original (and utterly terrifying) creation…Haunting…smart but not pretentious. It is funny, thrilling, and heartbreaking, all without missing a beat – an impressive achievement." — BookBrowse, Starred Review
"[Erdrich] once again proves her talent for narrating a profound and compelling story." — Ms. Magazine
Coverage from NPR