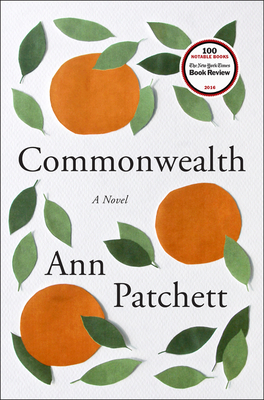 $27.99
Email orders@greenlightbookstore.com for information about this item.
September 2016 Indie Next List
---
"Patchett leaves behind the exotic locales and intricate plots of State of Wonder and Bel Canto for an even darker and more difficult place to navigate -- the interior of a blended family over the course of several decades. While more domestic than many of her previous novels, Commonwealth offers plenty of intrigue and surprises as Patchett explores the interaction of a group of children forced into each other's lives because of their parents' impulsive choices. With keen insight, tears of both sorrow and joy, and some real -- if dark -- humor, Patchett pulls readers into this complex family's world, and we are eager for every detail."
— John Christensen (W), Arcadia Books, Spring Green, WI
Description
---
"Exquisite. . .Commonwealth is impossible to put down." — New York Times
#1 New York Times Bestseller | NBCC Award Finalist | New York Times Best Book of the Year | USA Today Best Book | TIME Magazine Top 10 Selection | Oprah Favorite Book | New York Magazine Best Book of The Year
The acclaimed, bestselling author—winner of the PEN/Faulkner Award and the Orange Prize—tells the enthralling story of how an unexpected romantic encounter irrevocably changes two families' lives.
One Sunday afternoon in Southern California, Bert Cousins shows up at Franny Keating's christening party uninvited. Before evening falls, he has kissed Franny's mother, Beverly—thus setting in motion the dissolution of their marriages and the joining of two families.
Spanning five decades, Commonwealth explores how this chance encounter reverberates through the lives of the four parents and six children involved. Spending summers together in Virginia, the Keating and Cousins children forge a lasting bond that is based on a shared disillusionment with their parents and the strange and genuine affection that grows up between them.
When, in her twenties, Franny begins an affair with the legendary author Leon Posen and tells him about her family, the story of her siblings is no longer hers to control. Their childhood becomes the basis for his wildly successful book, ultimately forcing them to come to terms with their losses, their guilt, and the deeply loyal connection they feel for one another.
Told with equal measures of humor and heartbreak, Commonwealth is a meditation on inspiration, interpretation, and the ownership of stories. It is a brilliant and tender tale of the far-reaching ties of love and responsibility that bind us together.
About the Author
---
Ann Patchett is the author of novels, most recently the #1 New York Times bestselling Tom Lake, works of nonfiction, and children's books. She has been the recipient of numerous awards, including the PEN/Faulkner, the Women's Prize in the U.K., and the Book Sense Book of the Year. Her novel The Dutch House was a finalist for the Pulitzer Prize. Her work has been translated into more than thirty languages. Time magazine named her one of the 100 Most Influential People in the World. President Biden awarded her the National Humanities Medal in recognition of her contributions to American culture. She lives in Nashville, Tennessee, where she is the owner of Parnassus Books. Visit her at annpatchett.com
Praise For…
---
Praise for Commonwealth:
"Patchett brings humanity, humor, and a disarming affection to lovable, struggling characters... Irresistible." — Library Journal
"Exquisite... Commonwealth is impossible to put down." — New York Times
"(A) rich and engrossing new novel …" — New York Times Book Review
"Indeed, this is Patchett's most autobiographical novel, a sharply funny, chilling, entrancing, and profoundly affecting look into one family's "commonwealth," its shared affinities, conflicts, loss, and love." — Booklist
"…a funny, sad, and ultimately heart-wrenching family portrait…Patchett elegantly manages a varied cast of characters…[Patchett is] at her peak in humor, humanity, and understanding people in challenging situations." — Publishers Weekly (starred review)
"The prose is lean and inviting…A satisfying meat-and-potatoes domestic novel from one of our finest writers." — Kirkus Reviews (starred review)
"Wonderfully executed…" — Marie Claire
"Commonwealth is a smart, thoughtful novel about the ties that bind us." — Pop Sugar
"Commonwealth is an all-American family saga, but her touching and even-handed approach to themes such as family politics, love, the role of literature and the acidic nature of lies is buoyed by a generous sprinkling of matter-of-fact humor" — BookPage
"Commonwealth bursts with keen insights into faithfulness, memory and mortality… [An] ambitious American epic…" — Atlanta Journal-Constitution
"Patchett's storytelling has never seemed more effortlessly graceful. This is minimalism that magically speaks volumes…" — Washington Post
"The genius of the way Patchett approached Commonwealth is that it's constructed like a puzzle… Maybe it's another case of the tried-and-true adage: "Write what you know." Because this book? It's pure gangbusters." — San Francisco Chronicle
"moving, beautifully crafted novel…" — Milwaukee Journal Sentinel
"Commonwealth is a sly book about storytelling, a story about a single incident - really two pivotal incidents - spun out over the length of a narrative constructed like a conversation but encompassing decades." — Kansas City Star
"splendid new novel… Just try to stop reading. And you won't want to. Patchett is in stellar form." — USA Today
"… the emotional intelligence of Patchett's storytelling here feels warmer and richer and more resonant than anything she's done before." Rating: A — Entertainment Weekly
"close obervation, deadpan humor… Chekhov regularly invoked" — Wall Street Journal
"Patchett gives us funny, flawed characters, and the rich reward of Commonwealth is seeing their lives unfold…" — Houston Chronicle
"a wry, compassionate tale" — Christian Science Monitor
"…to create a story with 10 protagonists that spans 50 years - and at least five settings spread across the globe - is a balancing act that requires immense narrative skill, and Patchett never falters." — Knoxville News-Sentinel
"Reading Commonwealth is a transporting experience… It feels like Patchett's most intimate novel and is without doubt one of her best." — Los Angeles Times
"Wonderful… Patchett is a master storyteller" — O, the Oprah Magazine
"Spinning ordinary lives into literary gold" — Seattle Times
"[A] memorable, modern novel" — Flavorwire
"Ann Patchett's gifts are more clear than ever in Commonwealth" — Dallas Morning News
"Patchett's storytelling here feels warmer and richer and more resonant than anything she's done before." — Entertainment Weekly
Coverage from NPR