The Red and the Blue: The 1990s and the Birth of Political Tribalism (Hardcover)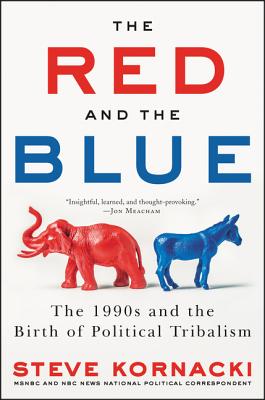 $29.99
Email or call for price.
Description
---
From MSNBC correspondent Steve Kornacki, a lively and sweeping history of the birth of political tribalism in the 1990s—one that brings critical new understanding to our current political landscape from Clinton to Trump
In The Red and the Blue, cable news star and acclaimed journalist Steve Kornacki follows the twin paths of Bill Clinton and Newt Gingrich, two larger-than-life politicians who exploited the weakened structure of their respective parties to attain the highest offices. For Clinton, that meant contorting himself around the various factions of the Democratic party to win the presidency. Gingrich employed a scorched-earth strategy to upend the permanent Republican minority in the House, making him Speaker. 
The Clinton/Gingrich battles were bare-knuckled brawls that brought about massive policy shifts and high-stakes showdowns—their collisions had far-reaching political consequences. But the '90s were not just about them.  Kornacki writes about Mario Cuomo's stubborn presence around Clinton's 1992 campaign; Hillary Clinton's star turn during the 1998 midterms, seeding the idea for her own candidacy; Ross Perot's wild run in 1992 that inspired him to launch the Reform Party, giving Donald Trump his first taste of electoral politics in 1999; and many others. 
With novelistic prose and a clear sense of history, Steve Kornacki masterfully weaves together the various elements of this rambunctious and hugely impactful era in American history, whose effects set the stage for our current political landscape.
About the Author
---
Steve Kornacki is a national political correspondent for NBC News and MSNBC.  His work has also appeared in the Wall Street Journal, Roll Call, and the New York Times, among others.  The Red and the Blue is his first book.
Praise For…
---
"Superb. . . . Kornacki recounts these events stylishly and objectively. . . . [An] absorbing narrative."
— Washington Post

"[Kornacki] is one of the most perceptive political analysts on cable TV. . . . A crisp and fast-paced narrative."
— The Guardian

"A smart and welcome take on U.S. politics over the past two decades."
— The American Conservative

"Kornacki is known for his predictive ability to read electoral tea leaves and spot trends. Now his journalistic prowess is on display in this sharp narrative tracking the steps and missteps over the last quarter-century that brought us to today's combative political stasis."
— Booklist (starred review)

"A hard-hitting look at 1990s election politics. . . . Engrossing. . . . With rich detail about '90s pop culture and astute political commentary, Kornacki tells an enlightening tale."
— Publishers Weekly

"Revealing reading to think about before the midterms heat up."
— Kirkus Reviews

"Instructive. . . . Reads like a novel with many footnotes and is ideal for anyone interested in contemporary American politics."
— Library Journal

"The energy and insight Kornacki expresses as a political analyst on television shatters the screen and fills the pages of this carefully crafted book. . . . Engaging, entertaining, and enlightening."
— Lee Miringoff, PhD, Director of Marist Institute for Public Opinion

"Steve Kornacki brings to The Red and the Blue the same intensity, rigorous reporting and incisive analysis that captivate his television audiences. This book sucked us right in and taught us something new about politics on every page."
— Jonathan Allen and Amie Parnes

"Steve Kornacki is America's gift to election years.  His new book, The Red and the Blue, is every political fan's playbook about how we got here and where we're going.  I loved it."
— Tom Brokaw

"An insightful, learned, and thought-provoking theory that the political tribalism of the moment is rooted in the worlds of Gingrich and of the Clintons, and the first days of the political-entertainment complex. This is an illuminating argument from a master political journalist and analyst."
— Jon Meacham