To Be a Man: Stories (Hardcover)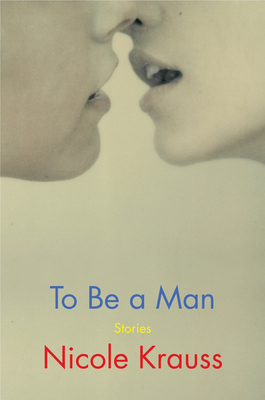 $26.99

Not In Store / Available To Order (allow for shipping time to bookstore or direct-to-home)
December 2020 Greenlight First Editions Club Selection
Description
---
O, The Oprah Magazine's 20 Best Titles of the Year
Time Magazine's 100 Books to Read in 2020 
Financial Times' Best Books of 2020
Esquire's Best Books of 2020
New York Times Editors' Choice

Lit Hub's Best Books of 2020
Bustle's Best Short Story Collections of 2020
Electric Literature's Favorite Short Story Collections of 2020
Library Journal's Best Short Stories of 2020
"Superb. . . . Krauss's depictions of the nuances of sex and love, intimacy and dependence, call to mind the work of Natalia Ginzburg in their psychological profundity, their intellectual rigor. . . . Krauss's stories capture characters at moments in their lives when they're hungry for experience and open to possibilities, and that openness extends to the stories themselves: narratives too urgent and alive for neat plotlines, simplistic resolutions or easy answers."  —Molly Antopol, New York Times Book Review
 "From a contemporary master, an astounding collection of ten globetrotting stories, each one a powerful dissection of the thorny connections between men and women. . . . Each story is masterfully crafted and deeply contemplative, barreling toward a shimmering, inevitable conclusion, proving once again that Krauss is one of our most formidable talents in fiction." —Esquire
In one of her strongest works of fiction yet, Nicole Krauss plunges fearlessly into the struggle to understand what it is to be a man and what it is to be a woman, and the arising tensions that have existed from the very beginning of time. Set in our contemporary moment, and moving across the globe from Switzerland, Japan, and New York City to Tel Aviv, Los Angeles, and South America, the stories in To Be a Man feature male characters as fathers, lovers, friends, children, seducers, and even a lost husband who may never have been a husband at all. 
The way these stories mirror one other and resonate is beautiful, with a balance so finely tuned that the book almost feels like a novel. Echoes ring through stages of life: aging parents and new-born babies; young women's coming of age and the newfound, somewhat bewildering sexual power that accompanies it; generational gaps and unexpected deliveries of strange new leases on life; mystery and wonder at a life lived or a future waiting to unfold. To Be a Man illuminates with a fierce, unwavering light the forces driving human existence: sex, power, violence, passion, self-discovery, growing older. Profound, poignant, and brilliant, Krauss's stories are at once startling and deeply moving, but always revealing of all-too-human weakness and strength. 
About the Author
---
Nicole Krauss is the author of the novels Forest Dark, Great House, The History of Love, and Man Walks Into a Room. Her work has appeared in the New Yorker, Harper's, Esquire, and The Best American Short Stories, and her books have been translated into more than thirty-five languages. She is currently the inaugural writer-in-residence at Columbia University's Mind, Brain, and Behavior Institute. She lives in Brooklyn, New York.

Praise For…
---
"A superb collection. . . . Krauss's depictions of the nuances of sex and love, intimacy and dependence, call to mind the work of Natalia Ginzburg in their psychological profundity, their intellectual rigor…Krauss's stories capture characters at moments in their lives when they're hungry for experience and open to possibilities, and that openness extends to the stories themselves: narratives too urgent and alive for neat plotlines, simplistic resolutions or easy answers."   — Molly Antopol, New York Times Book Review
"These stories put Krauss's lyric, precise prose—and, more importantly, her inquisitive and unsparing mind—on full display.. . . . The title story is at once moving and pitiless. It is a daring story even in the context of a daring collection, and it proves wholly that aesthetic simplicity has not reduced the scope of Krauss's intellectual and creative powers at all." — Lily Meyer, NPR
"A sustained shot of brilliance. . . . By turns tight and exuberant, disciplined and expansive, the collection shimmers with insight and moments of perfectly realized beauty. It provokes unabashed laughter, in inspires profound thinking, it delights and disturbs in equal measure. . . . Joy and woe are woven fine in this extraordinary book."   — Priscilla Gilman, Boston Globe
"Nicole Krauss, one of the great novelists working today, has never shied away from asking the big questions. But as her powerful new collection of short stories shows, her power lies not simply in her own ability to interrogate life — but in the way she calls on her readers to do the same." — Alice Fishburn, Financial Times
"TO BE A MAN offers the pleasure of being in the company of Krauss' surprising, challenging mind, tugged along by an imagination that's ever curious about the limits and possibilities of fiction, of time, and of love. . . . A collection of wonders." — Julie Buntin, San Francisco Chronicle
"How much do we really know ourselves and each other? These questions linger long after the final pages of this supremely intelligent collection."   — Aminatta Forna, The Guardian
 "What defines a life well-lived?...Krauss winningly explores these and other weighty issues in a home run of a short story collection…Above all, these stories pay homage to strong women. As female characters mature, they find resilience in the power they wield despite societal constraints." — Booklist (starred review)
"This triumphant first collection from Nicole Krauss crisscrosses the globe in 10 ambitious stories written over two decades that wrestle with sexuality, desire, and human connection…. This is a spectacular book." — Publishers Weekly (starred review)
"Krauss's first story collection succinctly but brilliantly examines sex, power, violence, passion, self-discovery and growing older through unforgettable characters in contemporary New York City, Tel Aviv, Berlin, Geneva, Kyoto, Japan and Southern California… Krauss is incredibly adept at portraying novel-worthy characters in this much shorter form."                                                      — Sarah Stiefvater, Pure Wow
"This collection of stories from Krauss is a wonder, with the author's signature straddling of the tragic and the absurd, her particularly Jewish frame of reference, and the extraordinary range of her narrative voice…A tremendous collection from an immensely talented writer." — Kirkus Reviews (starred review)
"All ten stories have the quality of waking dreams—an otherworldly stillness—and examine why we are drawn to another, how excruciating it is to let go of a parent who's died, or the moments when instinct overrules reason…they are united by Krauss's unparalleled ability to convert what at first seem like digressions into crescendos of the sublime." — O, the Oprah Magazine
"From a contemporary master, an astounding collection of ten globetrotting stories, each one a powerful dissection of the thorny connections between men and women…Each story is masterfully crafted and deeply contemplative, barreling toward a shimmering, inevitable conclusion, proving once again that Krauss is one of our most formidable talents in fiction."   — Esquire
"A beautiful, unique book…The stories are realist in approach but there's a ruminating quality that reminds me of Patrick Modiano's prose…Krauss's creative framing, perspective, focus on love, sex, motherhood, and foreign lands are the common elements found throughout this extraordinary collection…While the unknown haunts these stories, perhaps the most significant consideration for Krauss is the concept of love as union…The idea of the independent woman is a firm stronghold in the stories, but also, the loss of companionship." — Chicago Review of Books
"Brilliant, beautifully-crafted. . . . Many of the stories examine the ethical, emotional, and experiential legacies that parents and friends pass on to the next generation. . . . With exceptional precision, concision, grace, wisdom, and insight, Nicole Krauss creates a magnificent collection of stories that explore what the narrator effectively asks her son in the last lines of the final tale: Who will you be?"                       — New York Journal of Books
"Feels like talking all night to a brilliant friend...Krauss imbues her prose with authoritative intensity. In short, her work feels lived. . . . The strange urgency of Krauss's art . . . continues to haunt a reader's mind and heart."                        — Joan Frank, Washington Post
"Many of the themes that appear in the rest of Krauss' oeuvre are also present here: the tensions between community and isolation, between religious legacy and individual freedom, between the needs of the body and the desires of the mind.…To Be a Man is a collection to get lost in. And when one emerges on the other side, the world still shimmers with possibility."   — Washington Review of Books
"This collection delves into the mysteries of relationships and sexuality…In every story, tiny details and emotional acuity provide a vivid look at how life goes on." — Entertainment Weekly
"Deeply satisfying…Each tale in the book bends the formal possibilities of the short story in a pleasurably elastic way. Krauss' ability to tackle novel-worthy subjects at compact length is particularly bracing."   — Seattle Times
"The stories set up an opposition between the safe, orderly suburban American life her characters are used to and an unstable world of passion and intuition that they're destructively drawn towards."    — Wall Street Journal
"Smart, sad and funny explorations of identity and purpose, and of tradition embraced or thwarted." — Minneapolis Star Tribune
"Serpentine short stories that plumb human bonds and self-exploration, in settings from Tel Aviv to post-9/11 New York."                            — Vanity Fair
"All the stories explore a central theme: What makes us who we are? They are intriguing, familiar, and ripe for discussion. In other words, they're book club gold." — Real Simple
"A virtuoso performance…transporting throughout…Krauss displays an ability to capture the hearts and minds of men and women alike…A high point in fiction in 2020."                                                                — artsfuse.org 
"Recent first collections of short stories from established novelists such as Zadie Smith (GRAND UNION, 2019), Joseph O'Neill (GOOD TROUBLE, 2018), and Jeffrey Eugenides (FRESH COMPLAINT, 2017) have provided a concentration of high quality writing, their tales cherry-picked from decades of successful publication. Nicole Krauss' debut collection, TO BE A MAN, joins those ranks." — Times Literary Supplement (London)
"In To Be a Man, each story has its own understated logic, situating the vastness of big, all-consuming questions amidst ache-filled intimacy….Despite our own period of big scams and global illness, Krauss' stories remind us that the theater of desire will continue to be interesting as long as people—tired, hungry, and haunted by weighty histories—still move within it."                               — Rain Taxi