What Will the Weather Be? (Let's-Read-and-Find-Out Science 2) (Paperback)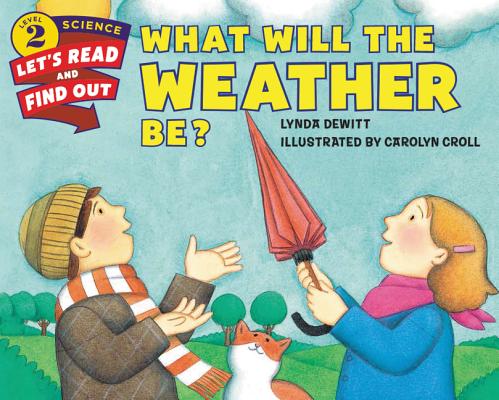 $6.99
Email or call for price.
Description
---
Read and find out about meteorology and why the weather can be hard to predict in this colorfully illustrated nonfiction picture book.
Will it be warm or cold? Should we wear shorts or pants? Shoes or rain boots? What Will the Weather Be? uses colorful, simple diagrams to explain meteorology in a fun, engaging way. Perfect for young sciencists and budding meteorologists, this bestseller features clear explanations of everyday weather instruments like thermometers and barometers.
This clear and appealing science book for early elementary age kids, both at home and in the classroom, was vetted for accuracy by Dr. Sean Birkel of the Climate Change Institute at the University of Maine.
This is a Level 2 Let's-Read-and-Find-Out, which means the book explores more challenging concepts for children in the primary grades. The 100+ titles in this leading nonfiction series are:
hands-on and visual
acclaimed and trusted
great for classrooms
Top 10 reasons to love LRFOs:
Entertain and educate at the same time
Have appealing, child-centered topics
Developmentally appropriate for emerging readers
Focused; answering questions instead of using survey approach
Employ engaging picture book quality illustrations
Use simple charts and graphics to improve visual literacy skills
Feature hands-on activities to engage young scientists
Meet national science education standards
Written/illustrated by award-winning authors/illustrators & vetted by an expert in the field
Over 130 titles in print, meeting a wide range of kids' scientific interests
Books in this series support the Common Core Learning Standards, Next Generation Science Standards, and the Science, Technology, Engineering, and Math (STEM) standards. Let's-Read-and-Find-Out is the winner of the American Association for the Advancement of Science/Subaru Science Books & Films Prize for Outstanding Science Series.
About the Author
---
Lynda DeWitt is an editor in the Educational Media Division of the National Geographic Society, and has published wildlife articles in various publications. She lives in Washington, D. C.
Carolyn Croll is the author/illustrator of several books for children and has illustrated numerous other titles, including another Let's-Read-and-Find-Out Science Book, Switch On, Switch Off by Mel Berger. She lives in Philadelphia.

Carolyn Croll is the distinguished illustrator of many books for children, including the I Can Read Books The Big balloon race by Eleanor Coerr and Clara and the Bookwagon by Nancy Smiler Levinson. She lives in Philadelphia, PA.
Praise For…
---
"Good introductory material to what can be a complex topic, and it could be used effectively if followed by class discussion."
— School Library Journal