The New Wilderness (Hardcover)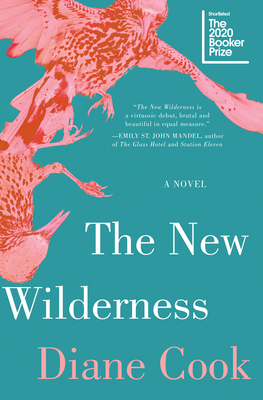 $27.99

Not In Store / Available To Order (allow for shipping time to bookstore or direct-to-home)
Description
---
A Washington Post, NPR, and Buzzfeed Best Book of the Year • Shortlisted for the Booker Prize
"More than timely, the novel feels timeless, solid, like a forgotten classic recently resurfaced — a brutal, beguiling fairy tale about humanity. But at its core, The New Wilderness is really about motherhood, and about the world we make (or unmake) for our children." — Washington Post
"5 of 5 stars. Gripping, fierce, terrifying examination of what people are capable of when they want to survive in both the best and worst ways. Loved this."— Roxane Gay via Twitter
Margaret Atwood meets Miranda July in this wildly imaginative debut novel of a mother's battle to save her daughter in a world ravaged by climate change; A prescient and suspenseful book from the author of the acclaimed story collection, Man V. Nature. 
Bea's five-year-old daughter, Agnes, is slowly wasting away, consumed by the smog and pollution of the overdeveloped metropolis that most of the population now calls home. If they stay in the city, Agnes will die. There is only one alternative: the Wilderness State, the last swath of untouched, protected land, where people have always been forbidden. Until now. 
Bea, Agnes, and eighteen others volunteer to live in the Wilderness State, guinea pigs in an experiment to see if humans can exist in nature without destroying it. Living as nomadic hunter-gatherers, they slowly and painfully learn to survive in an unpredictable, dangerous land, bickering and battling for power and control as they betray and save one another. But as Agnes embraces the wild freedom of this new existence, Bea realizes that saving her daughter's life means losing her in a different way. The farther they get from civilization, the more their bond is tested in astonishing and heartbreaking ways. 
At once a blazing lament of our contempt for nature and a deeply humane portrayal of motherhood and what it means to be human, The New Wilderness is an extraordinary novel from a one-of-a-kind literary force.
About the Author
---
Diane Cook is the author of the novel, THE NEW WILDERNESS, which was longlisted for the 2020 Booker Prize, and the story collection, MAN V. NATURE, which was a finalist for the Guardian First Book Award, the Believer Book Award, The Pen/Hemingway Award, and the Los Angeles Times Award for First Fiction. Her writing has appeared in Harper's, Tin House, Granta, and other publications, and her stories have been included in the anthologies Best American Short Stories and The O. Henry Prize Stories. She is a former producer for the radio program This American Life, and was the recipient of a 2016 fellowship from the National Endowment for the Arts. She lives in Brooklyn, NY with her husband, daughter and son.
Praise For…
---
"Could this be the great climate change novel of our time? Buzz is building fast for the epic debut novel of Diane Cook." — Entertainment Weekly
"The emotional core of the story is the relationship between Bea and Agnes, whose perspectives drive the narrative. It's a damning piece of horror cli-fi, but it's also a gripping and profound examination of love and sacrifice." — Buzzfeed
"Cook writes about desperate people in a world of ever shrinking livable space and increasingly questionable resources like air and water but also about the resilience of children who adapt, even enjoying circumstances that overwhelm the adults around them. Cook also raises uncomfortable questions: How far will a person go to survive, and what sacrifices will she or won't she make for those she loves? This ecological horror story (particularly horrifying now) explores painful regions of the human heart." — Kirkus Reviews (Starred Review)
"A wry, speculative debut novel. . .Cook's unsettling, darkly humorous tale explores maternal love and man's disdain for nature with impressive results." — Publishers Weekly (Starred Review)
"Violence, death, tribalism, lust, love, betrayals, wonder, genius, and courage—all are enacted in this stunningly incisive and complexly suspenseful tale akin to dystopian novels by Margaret Atwood and Claire Vaye Watkins. When Cook finally widens the lens on her characters' increasingly desperate predicament, the exposure of malignant greed, deceit, and injustice resonates with devastating impact." — Donna Seaman, Booklist (Starred Review)
"More than timely, the novel feels timeless, solid, like a forgotten classic recently resurfaced—a brutal, beguiling fairy tale about humanity. But at its core, The New Wilderness is really about motherhood, and about the world we make (or unmake) for our children."                                                        — Washington Post
"A dazzling debut...Cook takes command of a fast-paced, thrilling story to ask stomach-turning questions in a moment when it would benefit every soul to have their stomach turned by the prospect of the future she envisions. I, for one, was grateful for the journey."  

— Téa Obreht, The Guardian
"Humanity returns to nature in Diane Cook's timely ecological tale. . . . A gripping adventure that denies its readers easy answers, The New Wilderness is an important debut, and an illuminating read in these times, when the stakes of humans' relationship with nature have never felt higher." — USA Weekend
"5 of 5 stars. Gripping, fierce, terrifying examination of what people are capable of when they want to survive in both the best and worst ways. Loved this." — Roxane Gay via Twitter
"The New Wilderness is a virtuosic debut, brutal and beautiful in equal measure." — Emily St. John Mandel, New York Times bestselling author of STATION ELEVEN and THE GLASS HOTEL
"Cook's writing is both a melodic ode to nature and a devastating eulogy to what has been lost…This is a gorgeous tale of motherhood and the will to live…Diane Cook builds a place so rich it feels like home, even as it frightens in its ferocity."                  — Shelf Awareness
"The novel tackles the deepest of human emotions—as well as big ideas about the planet—in satisfying ways. Also, it's a page-turner!" — LitHub
"A wonderfully imagined … tense future-shock novel." — 2020 Booker Prize Judges
"An imaginative, dystopian look at what our world could become…I was gripped by how vivid the story was, how expertly Diane Cook got into the dynamics of a group of strangers surviving in the wild, and their relationship with those in power." — Hey Alma—Favorite Books for Summer
"THE NEW WILDERNESS left me as stunned as a deer in headlights. Gut-wrenching and heart-wrecking, this is a book that demands to be read, and urgently. With beauty and compassion, Diane Cook writes about the precariousness of life on this planet, about the things that make us human — foremost the love between mothers and daughters, at once complex and elemental. Cook observes humanity as a zoologist might — seeing us exactly as the strange animals we really are." — Rachel Khong, author of GOODBYE, VITAMIN
"Diane Cook upends old tropes of autonomy, survival, and civilization to reveal startling new life teeming beneath, giving a glimpse into the ways the world we think we know could come unstuck and come to life in the care of the women and girls of the future. This is not just a thrilling, curious, vibrant book--but an essential one, a compass to guide us into the future." — Alexandra Kleeman, author of YOU TOO CAN HAVE A BODY LIKE MINE
"The New Wilderness strips us of our veneer of civilisation and exposes us for what we are: driven to survive, capable of shocking cruelty and profound, fierce love. This story of what a mother does to save her daughter is unflinching, horrifying, forgiving, deeply moving, and filled with truth that stayed with this mother long after the final page." — Helen Sedgwick, author of The Comet Seekers and When the Dead Come Calling
"An absolutely riveting and propulsive novel. Terrifying, and as real as can be. Epic in scale and story; granular and recognisable in people and place. The New Wilderness is surely an instant classic in our stories of survival, sovereignty and adaptation. Cook's writing is so sure-footed, prescient and trustworthy, it's all the reader can do to follow her. For fans of Ling Ma's Severance and Hernan Diaz's In the Distance, and many, many readers in between." — Caoilinn Hughes (Orchid & the Wasp/The Wild Laughter) 
"As her characters navigate a changing terrain and their own emotional landscapes, Cook incorporates the whole of human experience. The New Wilderness examines our relationships to place and to others as the Community considers its right to be on the land and whether others have any business sharing the space."                                 --BookPage — BookPage
USA Today—5 Books Not to Miss: "The buzz: "A gripping adventure that denies its readers easy answers, 'The New Wilderness' is an important debut," says a ???? (out of four) review for USA TODAY." — USA Today (four stars)
"The book manages to have a driving plot at the same time that it supports big themes, like the best speculative fiction can do. And now it's on the longlist for the Booker Prize. The New Wilderness deserves its place there."   — Amazon.com
"A soulful, urgent debut…The push-pull ambivalence of Bea and Agnes's bond forms its beating heart…What lingers, beyond the awesome power of Bea and Agnes as heroines, is pure wonderment at all in this world of ours that is not human."    — The Guardian
"Cook captures not only the push-pull intimacy particular to a mother and child, but the way all relationships come with conflict and contradictions. Whatever the future holds, may Cook write some more books in it."   — San Francisco Chronicle
"Her writing is deceptively simple, beautifully corporeal . . . "  — San Francisco Chronicle
"Expertly plotted . . . highly seductive writing . . . It is the anthropological acuity in Cook's writing that makes it so persuasive. She explores how our nature is informed by the land we inhabit, how our conception of civility is relative to the circumstances in which we find ourselves."   — Times Literary Supplement (London)
"The emotional core of the novel—and its true source of brilliance—lies in the relationship between Bea and Agnes, the most intricate and morally arresting relationship Cook has conjured to date."                                  — Nation
"An absolutely breathtaking novel…captivating and engaging in the struggle for survival but also in the loss of one's humanity in the fight for survival and what we try to hold onto when the world has changed forever…A poignant perspective on human survival when the world has made survival much harder."                                   — Girly Book Club