Lovecraft Country: A Novel (Paperback)
* Is the book you're looking for not currently on the shelves at our stores? Consider placing your order for shipping rather than in-store pickup; orders are currently being fulfilled FASTER via our warehouse's direct-to-home shipping option than for store pickup (and shipping is free for orders over $125)!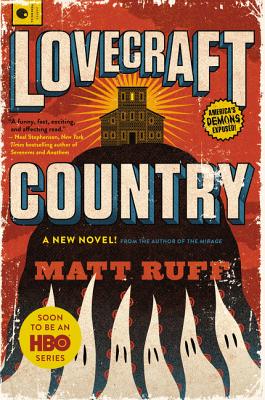 Description
---
Now an HBO® Series from J.J. Abrams (Executive Producer of Westworld), Misha Green (Creator of Underground) and Jordan Peele (Director of Get Out)
The critically acclaimed cult novelist makes visceral the terrors of life in Jim Crow America and its lingering effects in this brilliant and wondrous work of the imagination that melds historical fiction, pulp noir, and Lovecraftian horror and fantasy.
Chicago, 1954. When his father Montrose goes missing, 22-year-old Army veteran Atticus Turner embarks on a road trip to New England to find him, accompanied by his Uncle George—publisher of The Safe Negro Travel Guide—and his childhood friend Letitia. On their journey to the manor of Mr. Braithwhite—heir to the estate that owned one of Atticus's ancestors—they encounter both mundane terrors of white America and malevolent spirits that seem straight out of the weird tales George devours.
At the manor, Atticus discovers his father in chains, held prisoner by a secret cabal named the Order of the Ancient Dawn—led by Samuel Braithwhite and his son Caleb—which has gathered to orchestrate a ritual that shockingly centers on Atticus. And his one hope of salvation may be the seed of his—and the whole Turner clan's—destruction.
A chimerical blend of magic, power, hope, and freedom that stretches across time, touching diverse members of two black families, Lovecraft Country is a devastating kaleidoscopic portrait of racism—the terrifying specter that continues to haunt us today.
About the Author
---
Matt Ruff is the author of The Mirage, Bad Monkeys, Set This House in Order, Fool on the Hill, and Sewer, Gas & Electric. He lives in Seattle.
Praise For…
---
"Nonstop adventure that includes time-shifting, shape-shifting, and Lovecraft-like horrors ... Ruff, a cult favorite for his mind-bending fiction, vividly portrays racism as a horror worse than anything conceived by Lovecraft in this provocative, chimerical novel"
— Booklist (starred review)

"Another 'only Matt Ruff could do this' production. Lovecraft Country takes the unlikeliest of premises and spins it into a funny, fast, exciting and affecting read."
— Neal Stephenson, New York Times bestselling author of Seveneves and Anathem

"Lovecraft Country is a genre-bending attempt to address the severe problem of race in modern America, skewering the prejudices of older pulp works while maintaining their flavor, but it's also a compulsively readable horror-fantasy in its own right: timely, terrifying, and hilarious."
— Barnes & Noble Sci-Fi & Fantasy Blog

"Lovecraft Country is bound to appeal to any reader who wants to delve into the strangeness of our land's racial legacy."
— Seattle Times

"Ruff takes us back to the USA of the 1950s, when racism reigned almost unquestioned, and conflates Lovecraftian tropes with piercing dissections of ethics and morals and inequality, thereby confronting Lovecraft's now well-known prejudices through the lens of Ruff's own brilliant imagination and artistry."
— Barnes & Noble Review

"Lovecraft Country rubs the pervasive, eldritch dread of Lovecraft's universe against the very real, historical dread of Jim Crow America and sparks fly. . . . Ruff renders a very high-concept, imaginary world with such vividness that you can't help but feel it's disturbingly real."
— Christopher Moore, New York Times bestselling author of Lamb and A Dirty Job

"Ruff shows with great cleverness how it's possible for a group of victims to appropriate the very methods used to victimize them, master those methods, and bend them to serve their own purposes."
— Locus

"I've heard amazing things about Lovecraft Country by Matt Ruff, and on the strength of his previous books, I'm inclined to expect greatness from him."
— Charlie Jane Anders, The Amazon Book Review

"I enjoyed every ounce of Ruff's book."
— Tor.com

"…this newer book rewards patience, and nowhere more so than in the passages where it heartbreakingly weaves Hippolyta into the actual events that surrounded Pluto's discovery and naming. Once Ruff took me there, I would've followed him anywhere in Lovecraft Country."
— Seattle Review of Books