The Past: A Novel (Paperback)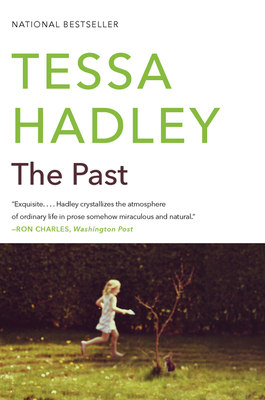 $16.99
Email or call for price.
January 2016 Greenlight First Editions Club Selection
January 2016 Indie Next List
---
"A novel about a family vacation is often used as a device to bring out the worst flaws of the characters; here, it is used to bring out the best of Hadley's writing talent. She brings the family together, introducing them one by one: Harriet, the outdoorsy one; Alice, the dramatic one; Fran, the motherly one; Roland, the scholarly brother. The siblings, along with assorted children, spouses, and a young friend, spend three weeks in the crumbling house that belonged to their grandparents, trying to decide what must be done with it. Readers who enjoy character-driven novels, such as ones by Kate Atkinson, Margaret Drabble, or Jane Gardam, will welcome this novel."
— Yvette Olson (W), Magnolia's Bookstore, Seattle, WA
Description
---
The "supremely perceptive writer of formidable skill and intelligence (New York Times Book Review) turns her astute eye to a dramatic family reunion, where simmering tensions and secrets come to a head over three long, hot summer weeks.
"Deliciously precise. . . . Built in a Chekhovian manner, handily assembling the grown members of an extended family and their offspring under one roof."—New York Times Book Review
Winner of the Windham Campbell Prize • A Washington Post Best Book of the Year • A Time Best Book of the Year • A San Francisco Chronicle Top 10 Book of the Year • A Huffington Post Best Fiction Book of the Year • A New York Times Editors' Choice
Three sisters and a brother, complete with children, a new wife, and an ex-boyfriend's son, descend on their grandparents' dilapidated old home in the Somerset countryside for a final summer holiday. The house is full of memories of their childhood and their past—their mother took them there to live when she left their father—but now, they may have to sell it. And beneath the idyllic pastoral surface lie tensions. As the family's stories and silences intertwine over the course of three long, hot weeks, small disturbances build into familial crises, and a way of life—bourgeois, literate, ritualized, Anglican—winds down to its inevitable end.
About the Author
---
Tessa Hadley is the author of six highly acclaimed novels, including Clever Girl and The Past, as well as three short story collections, most recently Bad Dreams and Other Stories, which won the Edge Hill Short Story Prize. Her stories appear regularly in The New Yorker; in 2016 she was awarded the Windham Campbell Prize and the Hawthornden Prize. She lives in London.
Praise For…
---
"Exquisite…. For anyone who cherishes Anne Tyler and Alice Munro, the book offers similar deep pleasures. Like those North American masters of the domestic realm, Hadley crystallizes the atmosphere of ordinary life in prose somehow miraculous and natural.... Extraordinary."
— Ron Charles, Washington Post

"From the coziest and most familiar of fictional materials, Hadley has created a remarkable story as disturbing as it is diverting."
— Maureen Corrigan, NPR's Fresh Air

"Hadley is so insightful, such a lovely writer, that she pulls you right into the tangle of wires that connect and trip up the stressed siblings. She makes you feel for these imperfect people, want to scold them, and ultimately accept them as they are. Just like family."
— People, Book of the Week

"A novel so evocative of summer and adolescence that to read it is to reexperience the deep languor and longing of those days…. We come to understand that the past... is merely yesterday's present.... It is that revelation that elevates the novel, deepening our own understanding of what shapes us."
— Tayari Jones, O Magazine

"Tessa Hadley recruits admirers with each book. She writes with authority, and with delicacy: she explores nuance, but speaks plainly; she is one of those writers a reader trusts."
— Hilary Mantel, author of Wolf Hall and Bring Up the Bodies

"Deliciously precise.... Built in a Chekhovian manner, handily assembling the grown members of an extended family and their offspring under one roof.... Hadley is adept at delineating the Cranes' brand of cultured middle-class Britishness in all its generational mutations."
— Fernanda Eberstadt, New York Times Book Review

"Few writers have been as important to me as Tessa Hadley. She puts on paper a consciousness so visceral, so fully realized, it heightens and expands your own. She is a true master, and The Past is a big, brilliant novel: sensual, wise, compelling—and utterly magnificent."
— Lily King, author of Euphoria

"Each player... is so distinct, so warmly dimensional you soon feel you know them as well as they know each other. This alone... is a marvel. More marvelous still is Hadley's seamless, steady control, moving individual and collective stories forward and backward in time - a splendid work."
— Joan Frank, San Francisco Chronicle

"Universal in its appeal and its intuitive ways of revealing how human nature, even our own, can surprise us…. Readers…should prepare themselves…for the beautiful cadences of Hadley's descriptive, lyrical prose."
— Connie Ogle, Miami Herald

"Hadley is so perceptive… that it can feel like she's revealing little secrets about life that it would have taken you years to notice on your own. A-"
— Isabella Biedenharn, Entertainment Weekly

"Splendid…. Hadley's gift for depicting the interior lives of children and adults rivals Ian McEwans's in the aptly lauded first section of Atonement."
— Amy Gentry, Chicago Tribune

"Hadley's beautifully composed new novel... recalls Elizabeth Bowen's The House in Paris in its dovetailing story lines, but the author's genius for the thorny comforts of family... are entirely her own."
— Megan O'Grady, Vogue

"I find Tessa Hadley's work genuinely helpful, especially when it comes to the big subjects: love and marriage, the political versus the personal, children, friendship. And then there are the sentences themselves, so precise and beautiful, often sly, sometimes devastating, always expertly paced. Few writers give me such consistent pleasure."
— Zadie Smith, author of NW

"Hadley brings a keen intelligence and emotional acuity to domestic fiction…. The Past glitters."
— Heller McAlpin, NPR

"Chekhovian by way of a modern-day British pastoral…. Hadley moves deftly back and forth between eras and generations…. As in Chekhov's dramas, The Past is a stage on which nothing much happens, brilliantly, even as everything slowly disintegrates."
— Boris Kachka, New York

"I finished 'The Past' sadly — why did it have to end? — with a sense that I had understood something profound about both Hadley's characters, and my own life. Many readers will, I suspect, in the presence of this exhilarating novel feel the same."
— Margot Livesey, Boston Globe

"Hadley glides like a familiar spirit through the rooms of the house and the perspectives of her characters…. Her novels have a moral spaciousness that gives their ordinary settings and conflicts a philosophical range.... "The Past" shows Ms. Hadley's gifts in fine fettle."
— Sam Sacks, Wall Street Journal

"Hadley's novel is the kind of observant, bittersweet book whose pleasures defy plot summaries....With Hadley's wry insights and gorgeous sentences, readers, like Alice, will find themselves only too happy to be enfolded by 'The Past.'"
— Yvonne Zipp, Christian Science Monitor

"An immaculate prose stylist."
— Meg Wolitzer, author of The Interestings

"[An] exquisitely written family drama."
— Liz Loerke, US Weekly

"Hadley's formidable storytelling talent and compassionate understanding of humanity pull us right into this beautifully told narrative…. A memorable novel that continues to resonate well after the reader has turned the last page, and makes us long for the next work of fiction by this outstanding English writer."
— Jim Carmin, Minneapolis Star Tribune

"No one writes family like Hadley."
— Megan O'Grady, Vogue.com

"Beautiful."
— Travel & Leisure

"A fresh take on a familiar story of fractious family reunions where old resentments resurface, new alliances form, and long-buried secrets are uncovered. A great read whether at the cottage or just dreaming of one."
— Barbara Love, Library Journal, starred review

"Masterful…. Captures the gentle tragedies of living, losses, and regrets…. Hadley is the patron saint of ordinary lives; her trademark empathy and sharp insight are out in force here."
— Kirkus, starred review

"Exceptional…. Familial drama at its best—unabashedly ordinary yet undoubtedly captivating."
— Publishers Weekly

"Hadley's prose is descriptively rich. She elevates the mundane via her keen understanding go people and the emotional complexities of marriages and families—secrets, subtle deceptions and loyalties."
— Kathleen Gerard, Shelf Awareness

"Placing fraught family relationships under the microscope, Hadley, wise and discerning, offers a subtle-yet-bold examination of complex emotional subtexts that have the power to bring kin together or destroy the bonds that would otherwise unite them."
— Carol Haggas, Booklist

"Beautifully written."
— Buffalo News