The Son (Large Print / Paperback)
* Is the book you're looking for not currently on the shelves at our stores? Consider placing your order for shipping rather than in-store pickup; orders are currently being fulfilled FASTER via our warehouse's direct-to-home shipping option than for store pickup (and shipping is free for orders over $125)!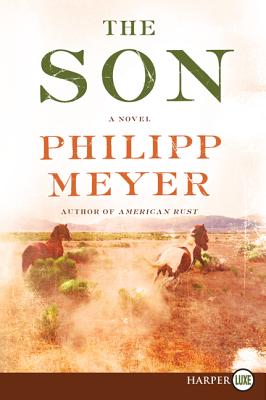 Email or call us for information about purchasing this item.
June 2013 Greenlight First Editions Club Selection
June 2013 Indie Next List
---
"Epic yet intimate, Meyer's The Son is the best kind of historical fiction. Vivid characters and great storytelling bring to life a distant time and place, while the themes and issues explored are completely relevant to our time. The interwoven perspectives of the three generations of the McCullough family create a counterpoint as each comments on the others, their mores, and their expectations and how these change over time. This is what great literature should be: a page-turner with a serious moral purpose."
— Scott, Books Inc., San Francisco, CA
Description
---
Philipp Meyer, the acclaimed author of American Rust, returns with The Son: an epic of the American West and a multigenerational saga of power, blood, land, and oil that follows the rise of one unforgettable Texas family, from the Comanche raids of the 1800s to the to the oil booms of the 20th century.
Harrowing, panoramic, and deeply evocative, The Son is a fully realized masterwork in the greatest tradition of the American canon—an unforgettable novel that combines the narrative prowess of Larry McMurtry with the knife-edge sharpness of Cormac McCarthy.
About the Author
---
Philipp Meyer is the author of the critically lauded novel American Rust, winner of the 2009 Los Angeles Times Book Prize. It was an Economist Book of the Year, a Washington Post Top Ten Book of the Year, and a New York Times Notable Book. He is a graduate of Cornell University and has an MFA from the University of Texas at Austin, where he was a James Michener Fellow. A native of Baltimore, he now lives mostly in Texas.
Praise For…
---
"With its vast scope, The Son makes a viable claim to be a Great American Novel of the sort John Dos Passos and Frank Norris once produced... an extraordinary orchestration of American history.
— Washington Post

"There is an extravagant quantity of birth, death and bitter passion in Philipp Meyer's grand and engrossing Texas saga."
— Wall Street Journal

"Philipp Meyer offers a tale that spans generations and, in its own way, encapsulates the history of the state itself."
— Los Angeles Times

"As bold, ambitious and brutal as its subject: the rise of Texas as seen through the tortured history of one family. At 561 pages, The Son is a demanding read... But by the end, Meyer ties it together and not too neatly. Tougher-than-tough Eli McCullough would respect that."
— USA Today (4 Stars)

"One of the most solid, unsparing pieces of American historical fiction to come out this century... a brilliant chronicle of Texas... stunning, raw and epic... The Son is vast, brave and, finally, unstoppable."
— NPR

"This is the book you want to read this summer... Every facet of Meyer's world--scent and sight and sensation--has weight and heft... Meyer's dream is a nightmare in which blood seeks power. It's also un-put-down-able."
— Esquire

"A novel that is an epic in the truest sense of the word: massive in scope, replete with transformations in fortune and fate, and drenched in the blood of war."
— Huffington Post

"The stuff of Great American Literature. Like all destined classics, Meyer's second novel speaks volumes about humanity--our insatiable greed, our inherent frailty, the endless cycle of conquer or be conquered."
— Publishers Weekly (starred review)

"Treading on similar ground to James Michener, Larry McMurtry, and Cormac McCarthy, Meyer brings the bloody, racially fraught history of Texas to life. Call it a family saga or an epic, this novel is a violent and harrowing read."
— Library Journal

"An old-fashioned family saga set against the birth of Texas and the modern West, this is a riveting slow burn of love, power, and a legacy of violence spanning generations. Meyer is a writer of vast ambition and talent, and he has created nothing less than an American epic."
— Parade

"The greatest things about The Son are its scope and ambition. . . It's an enveloping, extremely well-wrought, popular novel with passionate convictions about the people, places and battles that it conjures."
— New York Times

"The author of The Yellow Birdssays Philipp Meyer's novel The Son has 'as much to say about what it means to be American as any book I've ever read.'"
— New York Times Book Review, By the Book interview with Kevin Powers

"By the novel's end, Philipp Meyer has demonstrated that he can write a potboiler of the first rank, aswirl with pulpy pleasures: impossible love affairs, illicit sex, strife between fathers and sons, the unhappiness of the rich, the corruption of power."
— New York Times Book Review

"Sweeping, absorbing epic. . .An expertly written tale of ancient crimes, with every period detail--and every detail, period--just right."
— Kirkus Reviews (starred review)

"Meyer's massive Texas saga is perhaps the best Indian captive story ever written. . . [Meyer's] tale is best compared to Giant. Little Big Man and Lonesome Dove also come to mind..."
— Booklist (starred review)

"One of those books that remind you how totally absorbing a novel can be... the work of an uncommonly visionary and skillful writer with a superb sense of pacing... a beautiful, violent and frequently heartbreaking book, but it is not without a sense of fun."
— Washington Independent Review of Books

"A vivid, unflinching look at the peoples who struggled to conquer Texas, and one another. . . an aerial view of Texas, in which hidden elements of a huge, breathtaking landscape are suddenly made clear."
— Austin Chronicle

"One word--stunning. The Son stands fair to hold its own in the canon of Great American Novels. A book that for once really does deserve to be called a masterpiece."
— Kate Atkinson

"Meyer is an impressive and multi-talented story-teller in the old, good sense--the kind that makes me hang on for whatever the next chapter will hold."
— Richard Ford

"A remarkable, beautifully crafted novel. Meyer tackles large movements of American history and culture yet also delivers page-turning delights of story and character."
— Charles Frazier

Philipp Meyer redrafts humanity's oldest questions and deepest obsessions into something so raw and dazzling and brutal and real, The Son should come with its own soundtrack
— Tea Obreht

"A true American epic, full of brutal poetry and breathtaking panoramas. Meyer's characters repeatedly bear witness to the collision of human greed, savagery, and desire with the mute and indomitable Plains landscape. Meyer is a writer of tremendous talent, compassion and ambition.--The Son is a staggering achievement."
— Karen Russell

"Meyer's tale is vast, volcanic, prodigious in violence, intermittently hard to fathom, not infrequently hard to stomach, and difficult to ignore."
— Boston Globe

"Ambitious readers who take their prose seriously should grab a copy of The Son, a stunning work of historical fiction by Philipp Meyer. Scores of critics are gushing over the book calling it epic, one of the best of the year, even an American classic."
— CNN Online (Hot Reads for June)

"The story of our founding mythology; of the men and women who tore a country from the wilderness and the price paid in blood by subsequent generations. An epic in the tradition of Faulkner and Melville, this is the work of a writer at the height of his power."
— Kevin Powers

"An epic, heroic, hallucinatory work of art in which wry modern tropes and savage Western lore hunt together on an endless prairie... a horribly tragic, disturbingly comic and fiercely passionate masterpiece of storytelling."
— Chris Cleave

The Son is positioned to seduce readers who swooned for Lonesome Dove and 2011's briskly selling Comanche history, Empire of the Summer Moon.
— Cleveland Plain Dealer

"It may not be the Great American Novel, but it certainly is a damn good one."
— Entertainment Weekly (Grade A Review)

"Philipp Meyer's epic novel begins in 1849, when Eli McCullough, 13, is kidnapped by Comanches, and ends in 2012 as Eli's rich and powerful great-granddaughter is dying. USA TODAY says **** out of four."
— USA Today

"In gorgeously gritty prose, this epic novel follows three generations of the McCullough family - as wild as the untamed Texas frontier where they've settled - in their ruthless quest for power. (Ten Titles To Pick Up Now)"
— O, the Oprah Magazine

"The Son is adeptly written, rife with conflict, and richly built on scads of historical detail. Meyer is unflinching in his portrayal of violence and its role in America's bedrock."
— Austin American-Statesman

"One of the best books I've ever read . . . Incredibly ambitious and rich, and it reminds me of Blood Meridian and As I Lay Dying. Faulkner and McCarthy fans should definitely check it out."
— Dallas Observer

"The Son drives home one hard and fascinating truth about American life: None of us belong here. We just have it on loan until the next civilization comes around."
— Atlanta Journal-Constitution

"Mr. Meyer's version of how a white child grows into the culture of a Comanche warrior is so vivid, violent, heartless and tender at the same time that I often put the book down to recover from the scenes, then picked it up, eager to follow the narrative."
— Pittsburg Post-Gazette

"Meyer has penned another masterpiece of American fiction. Read it and see if you don't agree."
— Dayton Daily News

"The Son is a true American original. Meyer describes the Comanche as 'riding to haul hell out of its shuck.' It's an apt description of how it feels to read this exciting, far-reaching book."
— Milwaukee Journal Sentinel

". . . a raw and gritty novel not for the faint-hearted."
— Eagle (Bryan-College Station, Texas)

". . . Involving and moving novel. Meyer's work deserves its place among the great epics of Texas; even more, his vision of the state will change the way readers understand and judge its history and its folklore."
— Chapter 16

". . . Meyer's brilliant second novel . . . The writing is strong - 'riders were suddening out of the trees' - and rich with detail. . . Just like Meyer's riveting 2009 debut American Rust, this is a wonderful novel."
— Financial Times

This is an endlessly absorbing book, a page-turner with serious moral scope, both full of feeling and ruthlessly engineered, as great books are, to get us closer to the truth about ourselves.
— Men's Journal

The Son clearly demonstrates how a well-written, thoroughly researched work of fiction illuminates the past. . . 'No land was ever acquired honestly in the history of the earth,' Eli maintains. An outstanding novelist has tilled this fertile ground."
— Santa Fe New Mexican

"Critics have compared the writing to Larry McMurtry's Lonesome Dove or any of Cormac McCarthy's novels. Anyone who likes a Western saga will find plenty to savor in this latest work from a distinguished spinner of Western yarns."
— Examiner.com

"This is an endlessly absorbing book, a page-turner with serious moral scope, both full of feeling and ruthlessly engineered, as great books are, to get us closer to the truth about ourselves."
— Men's Journal

"An epic of the American Southwest, Meyer's masterly second novel follows several generations of a Texas ranching and oil dynasty through the 19th and 20th centuries…"
— New York Times Book Review, Paperback Row