The United States of Paranoia: A Conspiracy Theory (Paperback)
* Is the book you're looking for not currently on the shelves at our stores? Consider placing your order for shipping rather than in-store pickup; orders are currently being fulfilled FASTER via our warehouse's direct-to-home shipping option than for store pickup (and shipping is free for orders over $125)!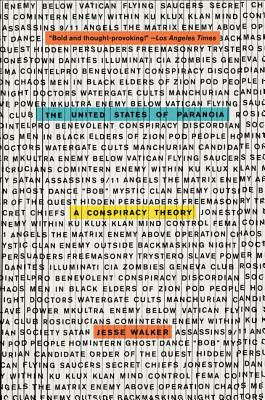 With all the recent accusations of fake news and conspiracy theories, witch hunts and deep state politics, this timely book explores how our uniquely American paranoia is ingrained in the history of our country, how it continues to influence our culture and, more importantly, how it permeates into our politics. Scary and fascinating, this is a great entertaining read.
Picked by Shauna in Fort Greene
Description
---
Jesse Walker's The United States of Paranoia presents a comprehensive history of conspiracy theories in American culture and politics, from the colonial era to the War on Terror.
The fear of intrigue and subversion doesn't exist only on the fringes of society, but has always been part of our national identity. When such tales takes hold, Walker argues, they reflect the anxieties and experiences of the people who believe them, even if they say nothing true about the objects of the theories themselves.

With intensive research and a deadpan sense of humor, Jesse Walker's The United States of Paranoia combines the rigor of real history with the punch of pulp fiction.
This edition includes primary-source documentation in the form of archival photographs, cartoons, and film stills selected by the author.
About the Author
---
Jesse Walker is the books editor of Reason magazine and the author of Rebels on the Air: An Alternative History of Radio in America. He lives in Baltimore with his wife and their two daughters.
Praise For…
---
"A superb analysis of American paranoia…terrific, measured, objective."
— Publishers Weekly (starred review)

"Prepare to be amazed."
— Jeet Heer, author of In Love with Art

"Free-floating fear and half-baked ideas about what's really going on have been a more significant part of American history than is generally accepted, according to Jesse Walker's thorough, meticulously researched book."
— Vice

"Oddly entertaining...Walker quickly demolishes [Richard Hofstadter's "The Paranoid Style in American Politics]. It's all too rare to come upon a writer willing to attack the sacred cows of the right and left with equal amounts of intelligence and flair."
— Los Angeles Times

"First there was A People's History of the United States. Now there's a paranoid's history, with Jesse Walker revealing that normal, sensible citizens have been conspiracy nuts ever since our nation's beginning."
— Debbie Nathan, author of Sybil Exposed