Rivington Was Ours: Lady Gaga, the Lower East Side, and the Prime of Our Lives (Paperback)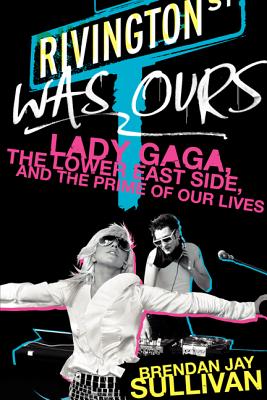 $16.99
Special Order; please call or email to confirm availability
Description
---
Lady Gaga's old friend and former DJ Brendan Jay Sullivan paints a vivid picture of the downtown scene from which she emerged.
Brendan Jay Sullivan was an up-and-coming DJ in New York City when he met Stefani Germanotta, then a struggling artist, in 2006. She was a go-go dancer who sewed her own outfits but had bigger ambitions—she wanted nothing less than to take over the music world.
In this intimate portrait of the budding star who would soon catapult to fame and fortune, the author describes afternoons sitting with Gaga on the floor of her bare Lower East Side apartment, drinking wine from pint glasses and plotting out the pop stardom that awaited her.
Filled with stories of love and heartbreak among Gaga and Sullivan and their circle of aspiring musicians and performers, and set against the vibrant backdrop of the downtown bars and parties of the mid-aughts, Rivington Was Ours is both a love letter to New York and a glimpse behind the veil of one of the biggest musical icons of her generation.
Praise For…
---
" Equal parts insightful, funny, romantic and poetic, this is a book that's not just about Gaga but about the magic of the city. Brendan's writing makes you feel like a fly on the wall while history is being made all around you."

"A fascinating and vivid insight into the cauldron that formed a great musician. It's a slice of New York history, go and buy it!"

"Brendan Jay Sullivan is a writer's writer. Yes, he's that good."

"Through charm and wit and sheer force of will, Brendan Jay Sullivan has insinuated himself into New York night life, and through his talent with words, he has brought you along as his plus one."

"Sullivan delivers a delectable romp through Stefani Germanotta's early days - and offers a unique window into the process by which she became Lady Gaga."

"Richly detailed, funny and poignant. Who knew Lady Gaga's lower-Manhattan dance-club scene of the late 2000s needed a 'Bright Lights, Big City'?"

"Brendan Jay Sullivan is the voice of our generation."

"Brendan Jay Sullivan is the Lena Dunham of the Lower East Side - if Lena Dunham were a male aficionado of rock and roll music."

"Brendan Jay Sullivan is one of the most engaging, authentic, and all-around interesting people I know. What his story lacks in pretentious B.S. it makes up for in affability, comedy, and charm. "

"The nicest guy in nightlife."

A touching memoir.