Sea People: The Puzzle of Polynesia (Paperback)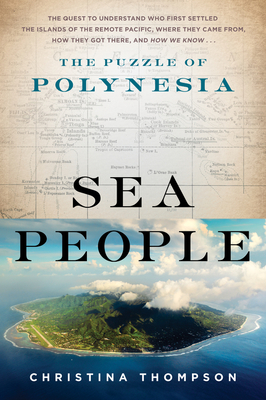 $19.99

Available In Store Now (while supplies last)
Description
---
"Who hasn't stayed up late reading South Sea tales? Christina Thompson's Sea People is a South Sea tale to top them all."—Richard Rhodes, author of Energy: A Human History and the Pulitzer Prize winning The Making of the Atomic Bomb
"Magnificent. . . .  A grand, symphonic, beautifully written book. . . . Sea People is an archive-researched historical account that has the page-turning qualities of an all-absorbing mystery."—Boston Globe
A blend of Jared Diamond's Guns, Germs, and Steel and Simon Winchester's Pacific, a thrilling intellectual detective story that looks deep into the past to uncover who first settled the islands of the remote Pacific, where they came from, how they got there, and how we know.
For more than a millennium, Polynesians have occupied the remotest islands in the Pacific Ocean, a vast triangle stretching from Hawaii to New Zealand to Easter Island. Until the arrival of European explorers they were the only people to have ever lived there. Both the most closely related and the most widely dispersed people in the world before the era of mass migration, Polynesians can trace their roots to a group of epic voyagers who ventured out into the unknown in one of the greatest adventures in human history.
How did the earliest Polynesians find and colonize these far-flung islands? How did a people without writing or metal tools conquer the largest ocean in the world? This conundrum, which came to be known as the Problem of Polynesian Origins, emerged in the eighteenth century as one of the great geographical mysteries of mankind.
For Christina Thompson, this mystery is personal: her Maori husband and their sons descend directly from these ancient navigators. In Sea People, Thompson explores the fascinating story of these ancestors, as well as those of the many sailors, linguists, archaeologists, folklorists, biologists, and geographers who have puzzled over this history for three hundred years. A masterful mix of history, geography, anthropology, and the science of navigation, Sea People combines the thrill of exploration with the drama of discovery in a vivid tour of one of the most captivating regions in the world.
Sea People includes an 8-page photo insert, illustrations throughout, and 2 endpaper maps.
About the Author
---
Christina Thompson is the editor of Harvard Review and the author of Come On Shore and We Will Kill and Eat You All: A New Zealand Story, which was shortlisted for the Douglas Stewart Prize for Non-fiction and the William Saroyan International Prize for Writing. Her essays and criticism have appeared in numerous publications, including Vogue, the American Scholar, the Journal of Pacific History, and three editions of Best Australian Essays. She is the recipient of numerous fellowships and awards, including a National Endowment for the Arts Creative Writing Fellowship, a Writer's Grant from the Australia Council, and a National Endowment for the Humanities Public Scholar Award. A dual citizen of the US and Australia, she lives outside of Boston with her family.
Praise For…
---
"Sea People is a roaring success.… A deeply interesting read, and at points incredibly moving." — NPR
"Compelling.… These pages will unleash the imagination [and] spark insight." — National Geographic
"Sea People is a rich compendium of the ways Polynesia has been pinned down on the maps of geography, history, and culture through the centuries. As Thompson so eloquently shows, such descriptions are only half of a story." — Harper's Magazine
"I loved this book. I found Sea People the most intelligent, empathic, engaging, wide-ranging, informative, and authoritative treatment of Polynesian mysteries that I have ever read. Christina Thompson's gorgeous writing arises from a deep well of research and succeeds in conjuring a lost world." — Dava Sobel, bestselling author of Longitude and The Glass Universe
"Christina Thompson…is perhaps ideally placed to try to answer the question [of Polynesian origins] – and in Sea People, her fascinating and satisfying addition to an already considerable body of Polynesian literature, she succeeds admirably." — New York Times Book Review
"Magnificent…  A grand, symphonic, beautifully written book… Sea People is an archive-researched historical account that has the page-turning qualities of an all-absorbing mystery." — Boston Globe
"Christina Thompson's outstanding study brims with detail." — Nature
"Fascinating… A piece of beautiful nonfiction writing." — WBAA, an NPR affiliate
"Superb. . . . An illuminating read for amateur sleuths and professional scholars alike." — The Spectator
"The supra theme of Sea People is a vision of knowledge systems intertwined – the outcome of history, cultural tolerance, and a grasp of misunderstandings. Thompson's tone is perfectly tuned for such enlightenment, as is the life-position from which she writes." — Sydney Morning Herald
"A triumph… Sea People deserves a wide audience, one well beyond those who are from, or conduct research, in the region… Infused with curiosity and respect, Sea People is everything historical nonfiction should be." — Australian Book Review
"A thorough and page-turning investigation… Part-memoir, part-investigation, part-history book, Sea People is an adventure in itself… It's a compelling read, and one that movingly reminds us that the world is much older and much bigger than we imagine." — Scout Cambridge
"Fascinating… The origins of the people of Polynesia, as discussed in this spellbinding history, are sure to captivate armchair travelers and historians alike." — Shelf Awareness (starred review)
"A revelatory summation of this vast area steeped in culture and tradition." — BookPage
"Thompson offers not a binary (science vs myth) but a proliferation of knowledge frameworks: linguistics, oral history, computer science, anthropology, navigation, archaeology, etc. Thompson affirms a stance of intellectual appreciation, humility, and wonder." — DigBoston
"Sea People teems with compelling insights as it explores the age-old mysteries of Polynesian origins. We don't just visit the turreted cliffs of the Marquesas with Mendaña, the cloud-wrapped peaks of Hawaii with Cook, or the treacherous reefs of Raroia with Heyerdahl. We envision the whole panorama of European exploration and colonization against the even greater grandeur of Polynesian inventiveness, dignity, and self-determination. Thanks to Thompson's vision, we encounter an authentic global mystery that proves as vast and luminous as the Pacific itself." — Jack Weatherford, bestselling author of Genghis Khan and the Making of the Modern World
"Sea People teems with compelling insights as it explores the age-old mysteries of Polynesian origins. We don't just visit the turreted cliffs of the Marquesas with Mendaña, the cloud-wrapped peaks of Hawaii with Cook, or the treacherous reefs of Raroia with Heyerdahl. We envision the whole panorama of European exploration and colonization against the even greater grandeur of Polynesian inventiveness, dignity, and self-determination. Thanks to Thompson's vision, we encounter an authentic global mystery that proves as vast and luminous as the Pacific itself." — Paul Fisher, author of House of Wits: An Intimate Portrait of the James Family
"Thoroughly researched and engagingly written, Thompson's account shows how the science of human history, despite occasional wrong turns and dead ends, slowly but steadily advances. A must read for anyone fascinated by the Polynesians or interested in the history of science." — Patrick V. Kirch, author of On the Road of the Winds  
"A luminous, beautifully rendered account of Polynesian navigation and exploration, and the lives and knowledge that built and populated an astonishing Oceanian civilization. Thompson captures the remarkable deep history of a world shaped between land and sea." — Matt K. Matsuda, author of Pacific Worlds
"Artfully written… [Thompson] writes with infectious awe and appreciation about Polynesian culture and with sharp intelligence about the blind spots of those investigating it at different times. This fascinating work could prove to be the standard on the subject for some time to come." — Publishers Weekly (starred review)
"An inspired history… A beautifully woven narrative… Thompson vividly captures the wondrousness of this region of the world as well as the sense of adventure tied up in that history." — Kirkus Reviews
"A superb chronicler of the intellectual explorers of Polynesian history, Thompson writes with command and insight, enhancing this fascinating book's rich appeal." — Booklist
"An elegantly written and superbly researched survey of a great geographical and historical puzzle." — Literary Review
"A rewarding chronicle that spans centuries of investigations . . . [Thompson] shows us how we know what we know about the peopling of nearly a quarter of the Earth's surface." — Smithsonian
"A mesmerizing tapestry of maritime and scholarly discovery." — Global Asia
"A fascinating answer to an enormous puzzle – and Thompson tells it beautifully. Essential reading." — Stuff magazine
"Destined to be a nonfiction classic." — Inkslinger