Marvel Comics: The Untold Story (Paperback)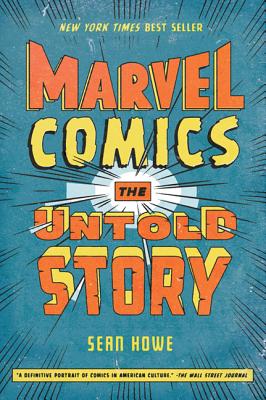 Description
---
The defining, behind-the-scenes chronicle of one of the most extraordinary, beloved, and dominant pop cultural entities in America's history -- Marvel Comics – and the outsized personalities who made Marvel including Martin Goodman, Stan Lee, and Jack Kirby.  
"Sean Howe's history of Marvel makes a compulsively readable, riotous and heartbreaking version of my favorite story, that of how a bunch of weirdoes changed the world…That it's all true is just frosting on the cake."  —Jonathan Lethem
For the first time, Marvel Comics tells the stories of the men who made Marvel: Martin Goodman, the self-made publisher who forayed into comics after a get-rich-quick tip in 1939, Stan Lee, the energetic editor who would shepherd the company through thick and thin for decades and Jack Kirby, the WWII veteran who would co-create Captain America in 1940 and, twenty years later, developed with Lee the bulk of the company's marquee characters in a three-year frenzy. Incorporating more than one hundred original interviews with those who worked behind the scenes at Marvel over a seventy-year-span, Marvel Comics packs anecdotes and analysis into a gripping narrative of how a small group of people on the cusp of failure created one of the most enduring pop cultural forces in contemporary America.
About the Author
---
Sean Howe is the editor of Give Our Regards to the Atomsmashers!: Writers on Comics and the Deep Focus series of film books. He is a former editor and critic at Entertainment Weekly, and his writing has appeared in New York, The Los Angeles Times, Slate, Spin, and The Village Voice. He lives in Brooklyn, New York.
Praise For…
---
"Sean Howe's history of Marvel makes a compulsively readable, riotous and heartbreaking version of my favorite story, that of how a bunch of weirdos changed the world. That it's all true is just frosting on the cake." — Jonathan Lethem
"A warts-and-all, nail-biting mini-epic about the low-paid, unsung 'funnybook men' who were unwittingly creating twenty-first century pop culture. If you thought the fisticuffs were bare and bloody on the four-color page, wait 'til you hear about what went down in the Marvel bullpen." — Patton Oswalt
"Exhaustively researched and artfully assembled, Marvel Comics is a historical exploration, a labor of love, and a living illustration of how the weirdest corners of the counterculture can sometimes become the culture-at-large." — Chuck Klosterman
"Page after page, Sean Howe's Marvel Comics manages to be enchantingly told, emotionally suspenseful and totally revelatory. If I knew more about superpowers, I'd be able to explain how he did it." — Sloane Crosley
"Sean Howe is to Marvel Comics what Procopius was to the Byzantine Empire: a court gossip of breathtaking thoroughness and exactitude, and a sly and nuanced writer. It is imperative that this work not fall into the hands of alien species, or we're done for." — Luc Sante
"A jittery, hilarious, anecdotal, and exhaustive history of the company. . . . If you're a comics fan, this is essential reading. If you're not, then it's merely fascinating. Howe has written a biographical history of modern America's id." — GQ
"Written crisply with lots of original reporting, Marvel Comics is a must for any superhero or pop-culture fan." — The New York Post
"Sean Howe reveals the real-world battles and triumphs behind the biggest name in comics." — Entertainment Weekly
"Sean Howe's gripping new history lays out five decades of Marvel adventures and insanity, and will make you believe that comic-book creators have even weirder lives than their mutant creations." — Rolling Stone
"Marvel Comics is a meticulous chronicle of the real secret origins of the superhero, a tragic love story about the relationship between a long parade of passionate, talented superhero devotees and the company that didn't love them back." — The Los Angeles Times
"It's about time somebody wrote Marvel Comics: The Untold Story, and it looks like Sean Howe was the right guy for the job. Howe's clear-eyed history. . . is as full of colorful characters, tragic reversals and unlikely plot twists as any book in the Marvel canon." — Newsday
"Exhaustively researched and extraordinarily compelling. . . . A quasi-Shakespearean portrayal of Marvel as it moves from spirited upstart to ruthless corporate colossus." — Salon
"A superpowered must-read for anyone hooked on comics, as well as a gripping story for someone merely enlightened by a genre that's always had to fight for respect. It's much more about ordinary, flawed humans than super men and women, and therein lies its excellence." — USA Today
"Howe, a widely published critic with a real knack, rare for his field, for reporting, gets farther inside the company than anyone else has. . . .An essential read for anyone who loves comics, but civilians with a taste for gossip will enjoy it too." — The Daily Beast
"A corporate biography of America's most significant comic-book publisher and a definitive portrait of comics in American culture. . . . Howe offers vivid reporting and enticing detail. . . . The result is a book both authoritative and charmingly readable." — The Wall Street Journal
"Fascinating, compelling reading. . . . Exhaustively researched. . . . What ultimately propels you to keep turning the pages of this fat, enjoyable book are the endless anecdotes about how the Marvel Universe was shaped." — The Miami Herald
"A vivid account. . . . Comics have proven an enduring art form, gaining new fans without losing the old ones. Howe's exhaustively researched love letter to Marvel should find grateful readers among both groups." — The Boston Globe
"Hugely entertaining." — The New Republic