Beautiful Ruins: A Novel (Hardcover)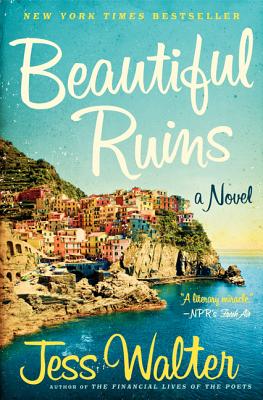 $28.99
Email orders@greenlightbookstore.com for information about this item.
July 2012 Indie Next List
---
"In 1962, a young Italian innkeeper unwittingly ends up taking part in the Hollywood 'clean up' of a love affair on the set for the film Cleopatra. Fast forward to present day Los Angeles; Pasquale Tursi shows up at the studio of a legendary Hollywood producer to find out the fate of the actress he met so briefly, so long ago. The 'beautiful ruins' refer not only to the stunning descriptions of the Italian coastline, but also to the winding path a life can take and the sweet middle ground that we sometimes discover when our dreams don't pan out."
— Sarah Harvey, Tattered Cover Book Store, Denver, CO
Description
---
The acclaimed, award-winning author of the national bestseller The Financial Lives of the Poets returns with his  funniest, most romantic, and most purely enjoyable novel yet: the story of an almost-love affair that begins on the Italian coast in 1962 . . . and is rekindled in Hollywood fifty years later.  

"Why mince words? Beautiful Ruins is an absolute masterpiece." —Richard Russo

"A ridiculously talented writer." —New York Times

About the Author
---
Jess Walter is the author of six novels, including the bestsellers Beautiful Ruins and The Financial Lives of the Poets, the National Book Award finalist The Zero, and Citizen Vince, the winner of the Edgar Award for best novel. His short fiction has appeared in Harper's, McSweeney's, and Playboy, as well as The Best American Short Stories and The Best American Nonrequired Reading. He lives in his hometown of Spokane, Washington.
Praise For…
---
"A monument to crazy love . . . Walter [is] a believer in capricious destiny with a fine, freewheeling sense of humor." — New York Times
"Walter is a very, very funny writer and can do Hollywood satire with the best of them. But this is also a novel with a live, beating heart, full of sympathy for its characters and a gut wisdom…You'll want to explore these Ruins." — Newsday
"Walter vividly draws a world both tender and cutthroat, where ambition battles reality, daydreams fight doldrums and sometimes win." — Interview
"A marvel, an absolute gem of a beach read that is both hilarious and heartbreaking." — Huffington Post
"Expertly scratches the seasonal itch for both literary depth and dazzle." — Entertainment Weekly
"Entrancing…Walter's turns of phrase are as brilliant as his plot twists, making for a compelling, fun read." — People
"Lyrical, heartbreaking, and funny . . . Walter closes the deal with such command that you begin to wonder why up till now he's not often been mentioned as one of the best novelists around. Beautiful Ruins might just correct that oversight." — Kansas City Star
"Beautiful . . . A shining, imaginative tale . . . Beautiful Ruins shows novelists how it is done." — The Plain Dealer
"His [Walter's] characters are long-suffering, prone to failure and sometimes at death's door. But the verve and enthusiasm of this novel, from its let's-go-everywhere structure to the comedy in the marrow of its sentences, are wholly life-affirming." — Minneapolis Star Tribune
"A beautiful narrative . . . This writer is a genius of the modern American moment." — Philadelphia Inquirer
"A novel shot in sparkly Technicolor. . . . reimagines history in a package so appealing we'd be idiots not to buy it." — Library Journal (starred review)
"Well-constructed…quirky and entertaining tale of greed, treachery, and love." — Publishers Weekly
"This is a blockbuster, with romance, majesty, comedy, smarts, and a cast of thousands. There's lights, there's camera, there's action. If you want anything more from a novel than Jess Walter gives you in Beautiful Ruins, you're getting thrown out of the theater." — Daniel Handler, author of Why We Broke Up and creator of Lemony Snicket
"[N]othing less than brilliant, a tour de force that crosses decades, continents, and genres, to powerful and often hilarious effect....A masterful novel of love, loss, and hard-won hope that satisfies on every level." — Ben Fountain, author of Billy Lynn's Long Halftime Walk
"Within a page-turner of a plot, these triumphantly vulnerable characters leap off the page to take up permanent residence in your inner life. The effect is so powerful that to be untouched by Beautiful Ruins might well be like having no inner life at all." — Rebecca Newberger Goldstein, author of 36 Arguments for the Existence of God: A Work of Fiction
"A brilliant, madcap meditation on fate. . . . Walter's prose is a joy-funny, brash, witty and rich with ironic twists. He's taken all of the tricks of the postmodern novel and scoured out the cynicism, making for a novel that's life-affirming but never saccharine." — Kirkus Reviews (starred review)
"A novel with pathos, piercing wit and, most important, the generous soul of a literary classic. . . . Walter has planted himself firmly in the first rank of American authors." — Boston Globe
"A literary miracle." — Maureen Corrigan, NPR's Fresh Air
"Beautiful Ruins is satisfying and delicate, a spectacular story of love, frustration, selfish intent, and the patience of the human heart." — The Stranger
"[A] high-wire feat of bravura storytelling. . . . [Walter's] mixture of pathos and comedy stirs the heart and amuses as it also rescues us from the all too human pain that is the motor of this complex and ever-evolving novel." — New York Times Book Review
"His masterpiece . . . an interlocking, continent-hopping, decade-spanning novel with heart and pathos to burn, all big dreams, lost loves, deep longings and damn near perfect." — Salon
"It is a powerful and lush book." — Selma Blair, the New York Post
"A great getaway of a novel." — People
"Beautiful Runs is itself a showcase for Walter's outrageous literary gifts in virtually every genre and style. . .No wonder critics have been outdoing each other with superlatives. . ." — Nashville Scene
"[An] enchanting novel. . . Sweeping effortlessly back and forth between Italy and current-day Hollywood, and between various modes of storytelling, Walters builds a world that won't soon let you go." — Paula McLain, author of The Paris Wife
"Combines satisfying, old-fashioned storytelling with a modern sensibility." — Becky Aikman