The Friedkin Connection: A Memoir (Paperback)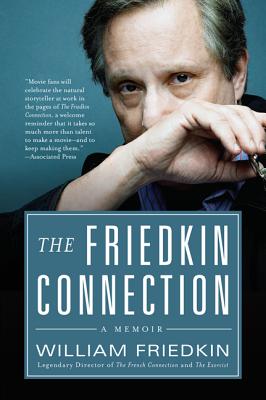 List Price: $19.99
Our Price: $17.99
(Save: $2.00 10%)
Available In Store Now (while supplies last)
Description
---
"Friedkin's book does the unthinkable: It relates the behind-the-scenes stories of his triumphs like The French Connection and The Exorcist, but also sees Friedkin take responsibility (brutally so) for his wrong calls. . . . In doing so, he captures the gut-wrenching shifts of a filmmaker's life—the bizarre whipsaw from success to disaster." —Variety
An acclaimed memoir from William Friedkin, a maverick of American cinema and Academy Award–winning director of such legendary films as The French Connection, The Exorcist, and To Live and Die in LA. The Friedkin Connection takes readers from the streets of Chicago to the suites of Hollywood and from the sixties to today, with autobiographical storytelling as fast-paced and intense as any of the auteur's films.
Friedkin's success story has the makings of classic American film. He was born in Chicago, the son of Russian immigrants. Immediately after high school, he found work in the mailroom of a local television station, and patiently worked his way into the directing booth during the heyday of live TV.
An award-winning documentary brought him attention as a talented new filmmaker and an advocate for justice, and it caught the eye of producer David L. Wolper, who brought Friedkin to Los Angeles. There he moved from television to film, displaying a versatile stylistic range. In 1971, The French Connection was released and won five Academy Awards, including Best Picture and Best Director, and two years later The Exorcist received ten Oscar nominations and catapulted Friedkin's career to stardom.
Penned by the director himself, The Friedkin Connection takes readers on a journey through the numerous chance encounters and unplanned occurrences that led a young man from a poor urban neighborhood to success in one of the most competitive industries and art forms in the world. In this fascinating and candid story, he has much to say about the world of moviemaking and his place within it.
About the Author
---
William Friedkin (1935 - 2023) was the Academy Award–winning director of such iconic films as The Exorcist and The French Connection.
Praise For…
---
"A fascinating appraisal—and a reminder of how much of a maverick Mr. Friedkin has turned out to be, willingly or otherwise. . . . 'I embody arrogance, insecurity and ambition that spur me on as they hold me back,' he writes. 'And while I've been healed of physical wounds, my character flaws remain for the most part unhealed. There's no point in saying I'll work on them.' But there is a point to immortalizing them, which this book so colorfully does." — Janet Maslin, New York Times
"Entertaining. . . . This memoir is at its most engrossing when describing the solid, unpretentious entertainments its author once made so well." — Wall Street Journal
"Movie fans will celebrate the natural storyteller at work in the pages of The Friedkin Connection, a welcome reminder that it takes so much more than talent to make a movie—and to keep making them." — Associated Press
"Hardcore film geeks will salivate over this time capsule from a grateful and still-brilliant legend." — Booklist
"For aspiring directors, a glimpse into the school of hard knocks, but there's plenty of good stuff, lean and well-written, for civilian film fans, too." — Kirkus Reviews
"Friedkin's book does the unthinkable: It relates the behind-the-scenes stories of his triumphs but also sees Friedkin take responsibility (brutally so) for his wrong calls. . . . He captures the gut-wrenching shifts of a filmmaker's life." — Variety
"Friedkin's memory for the process of filmmaking elevates this book above the usual score-settling Hollywood memoir; film buffs will be pleased with what he offers." — Publishers Weekly
"Friedkin's against-all-odds success story is compelling reading from the start." — LA Weekly
"Friedkin captures all the ups and downs of his distinguished film career. . . . Filled with insights into the art of film and its practitioners and honest assessments of his work—and the work of others in the film industry—this is terrific stuff. After reading it, you'll be anxious to see all the Friedkin movies you've missed." — Shelf Awareness
"Even in print, Friedkin still knows how to thrill." — NY1.COM, "The Book Reader" review