The Last Lone Inventor: A Tale of Genius, Deceit, and the Birth of Television (Paperback)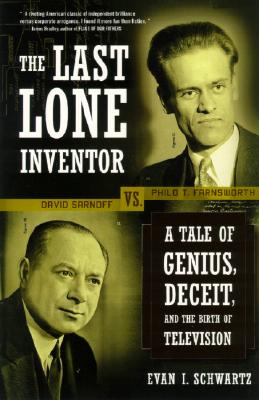 Description
---
In a story that is both of its time and timeless, Evan I. Schwartz tells a tale of genius versus greed, innocence versus deceit, and independent brilliance versus corporate arrogance. Many men have laid claim to the title "father of television," but Philo T. Farnsworth is the true genius behind what may be the most influential invention of our time.
Driven by his obsession to demonstrate his idea,by the age of twenty Farnsworth was operating his own laboratory above a garage in San Francisco and filing for patents. The resulting publicity caught the attention of RCA tycoon David Sarnoff, who became determined to control television in the same way he monopolized radio.
Based on original research, including interviews with Farnsworth family members, The Last Lone Inventor is the story of the epic struggle between two equally passionate adversaries whose clash symbolized a turning point in the culture of creativity.
About the Author
---
To write THE LAST LONE INVENTOR, Evan I. Schwartz spent two years researching the life stories of Philo T. Farnsworth and David Sarnoff. He interviewed surviving Farnsworth family members, including Farnsworth's 93-year-old widow, and he visited document archives in six states.
As a journalist, Evan has been covering information technology for 15 years. He is a former editor at BusinessWeek, where he covered software and digital media and was part of teams that produced 12 cover stories and won a National Magazine Award and a Computer Press Award. In recent years, he has written for The New York Times, WIRED, and MIT's Technology Review.
Evan's first book, titled WEBONOMICS, published by Broadway Books, a division of Random House, has ranked as Amazon.com's #1 bestselling business book and was chosen as a finalist for two major awards: The Global Business Book Award as well as the Computer Press Award. International editions have been published in eight countries.
Evan's second book, DIGITAL DARWINISM, from the same publisher, also hit #1 on Amazon's business list shortly after its release, in June 1999. Now in its twelfth hardcover and first paperback printing in the U.S., it is available in the U.K., from Penguin, and has been translated into eight other languages. It too was named a finalist for the Computer Press Award for Non-Fiction Book of the Year.
Evan holds a B.S. in computer science from Union College in Schenectady, New York, and lives with his family in Brookline, Mass.
Praise For…
---
"…Fascinating… A riveting American classic of independent brilliance versus corporate arrogance. I found it more fun than fiction."
— James Bradley, author of Flags of Our Fathers

"… The fascinating inside story of how this eccentric loner invented television and fought corporate America."
— Walter Isaacson, chariman, CNN

"…Compelling…Strong, dramatic prose…"
— Kirkus Reviews

"…A lively and engaging account."
— Library Journal

"[A] gripping and eminently readable saga of the birth of television and the death of the Edisonian myth."
— Darwin magazine