A Short History of the United States: From the Arrival of Native American Tribes to the Obama Presidency (Paperback)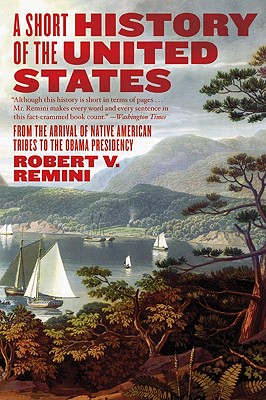 Description
---
"In 2008, Americans face war, terrorism, recession and the rising economies of China and India. Yet the author avers there is still reason to hope for good leadership. Astute assessments of an evolving nation and ideal reading for November voters." — Kirkus Reviews
A much-needed, concise history of the United States of America by National Book Award winner Robert V. Remini.
This accessible and lively volume contains the essential facts about the discovery, settlement, growth, and development of the American nation. Beginning with the earliest travelers to landing the Americas, A SHORT HISTORY OF THE UNITED STATES is a kind of highlight reel of U.S. history, including the migration of Native Americans, the founding of a republic under the Constitution, the emergence of the United States as a world power, the outbreak of terrorism here and abroad, all the way through the last years of George W. Bush's presidency—the perfect read for those who are searching for an abbreviated version of our nation's history, what shaped it, changed it, and what may be to come.
About the Author
---
Robert V. Remini is professor of history emeritus and research professor of humanities emeritus at the University of Illinois at Chicago and historian of the United States House of Representatives. He is the winner of the National Book Award for the third volume of his study of Andrew Jackson, and he lives in Wilmette, Illinois.
Praise For…
---
"A masterful recounting of the Amercian experience from the discovery of the New World to the present. . . . It is a perfect history for our times."
— Robert Dallek, author of Nixon and Kissinger

"Robert Remini's A Short History of the United States is a masterful recounting of the Amercian experience from the discovery of the New World to the present. Remini's engaging prose and balanced judgments make this a book for anyone who wants a realistic portrait of America's greatness and limitations. It is a perfect history for our times."
— Robert Dallek, author of Nixon and Kissinger

"In 2008, Americans face war, terrorism, recession and the rising economies of China and India. Yet the author avers there is still reason to hope for good leadership. Astute assessments of an evolving nation and ideal reading for November voters."
— Kirkus Reviews

"Provides everything a casual (or bewildered) reader needs to know about the United States from the first English colonists until the beginning of 2008. . . . An objective narrative of this nation's history that readers of all political stripes will appreciate."
— Publishers Weekly

"One of our great historians has now given us yet another great work. . . . [It] may be brief, but it is wise, eloquent and authoritative. Readers in search of a sprightly tour of the nation's lives and times need look no farther than Remini's latest achievement."
— Jon Meacham, author of American Lion: Andrew Jackson in the White House

"Although this history is short in terms of pages, it's crammed with content. . . . Through this great mass of material, Mr. Remini holds to a steady narrative course. . . . Mr. Remini makes every word and every sentence in this fact-crammed book count. No wasted words, no passives, no academic throat clearing, no polite beating around the bush."
— Washington Times