The Black Dahlia Files: The Mob, the Mogul, and the Murder That Transfixed Los Angeles (Paperback)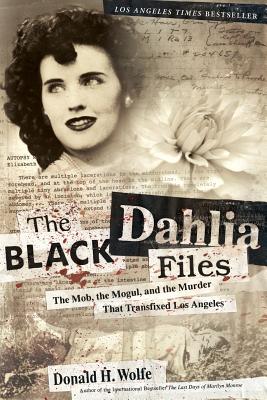 $17.99

Not In Store / Available To Order (allow for shipping time to bookstore or direct-to-home)
Description
---
In 1946, Elizabeth Short traveled to Hollywood to become famous and see her name up in lights. Instead, the dark-haired beauty became immortalized in the headlines as the "Black Dahlia" when her nude and bisected body was discovered in the weeds of a vacant lot. Despite the efforts of more than four hundred police officers and homicide investigators, the heinous crime was never solved. Now, after endless speculation and false claims, bestselling author Donald H. Wolfe discovers startling new evidence—buried in the files of the Los Angeles District Attorney's Office for more than half a century.
With the aid of archival photos, news clippings, and investigative reports, Wolfe documents the riveting untold story that names the brutal murderer—the notorious Mafia leader, Benjamin "Bugsy" Siegel—and the motive—an unwanted pregnancy resulting from Short's involvement with the most powerful figure in Los Angeles, Norman Chandler. But Wolfe goes even further to unravel the large-scale cover-up behind the case. Wolfe's extensive research, based on the evidence he discovered in the recently opened LADA files, makes The Black Dahlia Files the authoritative work on the murder that has drawn endless scrutiny but remained unsolved—until now.
About the Author
---
Donald H. Wolfe is the author of The Black Dahlia Files and the international bestseller, The Last Days of Marilyn Monroe. In Hollywood, California, where he was born and raised, Wolfe became a film editor at Columbia Pictures and Warner Bros., where he worked on All the President's Men and became a screenwriter for Steven Spielberg. He was also a contributor to the New York Times and Paris-Match.
Praise For…
---
"The most credible explanation to date. . . . Wolfe is a first-rate writer." — Publishers Weekly (starred review)
"A haunting account, destined to become a true-crime classic. A must read." — John Gilmore, author of Severed
"Breakthrough revelations about the twentieth century's most bizarre and haunting homocide--a real page-turner," — Gus Russo, author of The Outfit
"Riveting! If Don Wolfe is right, he has done what the police and the DA's office failed to do--come close to solving a murder that, sixty years ago, brought Jack-the-Ripper savagery to Los Angeles. Page by bloodstained page, he lays down the clues that point to a Mafia boss, a crooked doctor, and one of the most powerful men in California." — Anthony Summers, author of Goddess and Sinatra