The Only Good Thing Anyone Has Ever Done: A Novel (Paperback)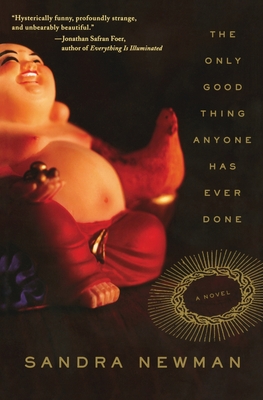 Description
---
When Chrysalis Moffat and her brother, Eddie, inherit a mansion on the coast of California, Eddie hatches a plan to fleece credulous Californians of their cash by starting the fraudulent Tibetan School of Miracles.
But something else is happening. Through Chrysalis's reunion with her brother, she begins to discover her adoptive father's secret past, causing her own identity to unravel. As Chrysalis lays down the facts of her life, she gambles her identity against the contradictions, half-truths, and fables of her past, leading her ultimately to question what it is we can truly know and whether it is fate or chance that dictates our lives.
About the Author
---
Sandra Newman is the author of The Only Good Thing Anyone Has Ever Done, which was short-listed for the Guardian First Book Award. She is also the author of the novel Cake; the memoir, Changeling; How Not to Write a Novel, an irreverent how-to guide with Howard Mittelmark; and The Western Lit Survival Kit. She lives in New York.
Praise For…
---
"A possible cult hit."
— Time Out New York

"A virtuoso performance [that] more than proves Newman a writer worth watching."
— Publishers Weekly (starred review)

"Newman …has a penetrating voice that could one day garner a devout following."
— Entertainment Weekly

"A witty, imaginative debut from a young novelist with dazzling intellectual resources."
— Adrienne Miller, Esquire

"A brilliantly wicked assessment of human nature."
— Dallas Morning News

"David Lynch and Dave Eggers aficionados will find much to admire in this edgy, strange, and dazzling first novel"
— Library Journal

"[This] is a smart, big-hearted, hysterical and gorgeously rendered novel."
— Jerry Stahl, author of Plainclothes Naked and Permenant Midnight

"Funny and moving, quirky and intelligent, and written in a fresh, original voice."
— Kate Atkinson, author of Behind the Scenes at the Museum and Emotionally Weird

"Breathtaking writing…the dialogue is pitch-perfect, with laugh out loud lines…an exhilarating read."
— The Independent on Sunday

"Original and powerful."
— Times Literary Supplement (London)

"Mesmerizing … [Newman's] clever and compelling tale is something you just can't afford to miss."
— What's On In London