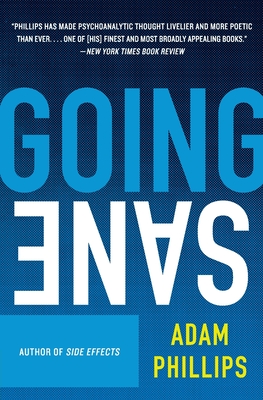 Description
---
Being sane has long been defined simply as that bland and nebulous state of not being mentally ill. While writings on madness fill entire libraries, until now no one has thought to engage exclusively with the idea of sanity.
In a society governed by indulgence and excess, madness is the state of mind we identify with most keenly. Though ultimately destructive, it is often credited as the wellspring of genius, individuality, and self-expression. Sanity, on the other hand, confounds us. One of the world's most respected psychoanalysts and original thinkers, Adam Phillips redresses this historical imbalance. He strips our lives back to essentials, focusing on how we—as human beings, parents, lovers, as people to whom work matters—can make space for a sane and well-balanced attitude to living. In a world saturated by tales of dysfunction and suffering, he offers a way forward that is as down-to-earth and realistic as it is uplifting and hopeful.
About the Author
---
Adam Phillips is the author of eleven previous books, including Side Effects and Houdini's Box. He writes regularly for the New York Times, the London Review of Books, and The Observer. He lives in London.
Praise For…
---
"Phillips has made psychoanalytic thought livelier and more poetic than ever… One of [his] finest and most broadly appealing books."
— New York Times

"Phillips offers a detailed description of what sanity can mean today."
— Los Angeles Times

"Beautifully written…clever and funny, and properly profound…A lovely addition to Phillips' guides to living a happier life."
— GQ

"Phillip's arguments, both thought provoking and provocative, may affect future definitions of sanity and madness."
— Publishers Weekly

As surely as vanilla is a flavor, sanity is a property, and this book delineates its parameters with considerable erudition."
— Andrew Solomon, author of THE NOONDAY DEMON, winner of the National Book Award

"Bracing and provocative. Should be enough alone to make whole shelvesful of parenting guides self-destruct."--
— The Observer

"Wise and subtle. Going Sane has some superbly suggestive things to say about childhood, depression, autism and schizophrenia."--
— Irish Times

"Winningly articulate, enlightening but never patronising, [Adam Phillips] is a born writer…Going Sane is written with elegance and zest."
— Arena

"Challenging and inspiring …Going Sane is an indispensable guide to what wisdom means today."
— John Gray, professor of political thought at the London School of Economics

"Phillips is, as ever, an original and lucid spirit, a buzzing intellectual gadfly in the ointment of our easy answers."
— Daphne Merkin, author of DREAMING OF HITLER: Passions and Provocations

"Adam Phillips has written an extraordinarily generous and subtle book...beautiful, unfussily important and emotionally brilliant."
— Jorie Graham, the Pulitzer Prize-winning author of The Dream of the Unified Field

"Probing ... Challenges the reader to reconsider the taken-for-granted notion that sanity is just another word for mental health."
— Kirkus Reviews

"Well-argued and stunningly thought-provoking. Phillips has tackled a 'big idea' in a sophisticated yet spirited way."
— Library Journal

"Erudite and absorbing, oozes intelligence - and charm. [Phillips is] adept at making the complex comprehensible."
— Independent