Immigrant Writing Series
In 2017 Greenlight launches a new Immigrant Writing Series, featuring literary events with a focus on the voices and experiences of immigrants. Events take place in our bookstore locations, and encompass a range of literary genres and event formats. Past authors include Ian Bassingthwaighte on Iraqi refugees in Egypt, Thi Bui on her family's journey to the U.S. from Vietnam, Mohsin Hamid with a fantastical novel of global immigration, Lisa Ko's novel of undocumented Chinese immigrants robbed of their American-born children, Valeria Luiselli with a nonfiction account of Central American refugee children in New York, and Deepak Unnikrishnan on the "guest workers" of the Persian Gulf. Events are free and open to the public.
"We live in a country and in a borough that was built by and thrives because of its immigrants," says Greenlight's co-owner Rebecca Fitting. "We wanted to create this reading series because it's vital that as a community and culture, our world view stays broad, open, supportive and wide. Reading fiction and stories is an important way of exposing ourselves to the lives and emotions of other people. Nonfiction provides history and facts, but fiction weaves empathy into the mix and allows us to view things from perspectives, cultures and worlds other than our own."
Upcoming Events in the Series: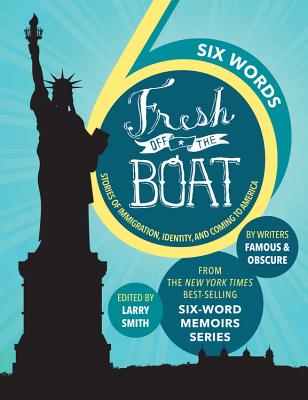 Fort Greene store:
Monday, September 18, 7:30 PM
Six Words Fresh Off the Boat: Stories of Immigration, Identity, and Coming to America
Hosted by Six-Word Memoirs creator and editor Larry Smith
Video, readings by contributors, and Six-Word Slam
Wine reception to follow
Greenlight welcomes Larry Smith, creator of the Six-Word Memoirproject, back to Brooklyn to celebrate his newest anthology, celebrating the stories and voices of immigrants. Six Words Fresh Off the Boatcaptures hundreds of memoirs on the experience of immigration from across America, spanning cultures and generations . With contributors including Aziz Ansari ("Every immigrant's journey is truly incredible."), Junot Diaz ("We immigrants are America's true superpower.") and George Takei ("Even after internment, still love America."), as well as the cast and creative team of the ABC series Fresh Off the Boat and dozens of refugees, students, soldiers, athletes, and others, the collection paints a powerful portrait of who we are as a country, and where we came from. Larry Smith hosts an evening celebrating the new book including video, readings and backstories by contributors, and a Six-Word Slam for audience participation!
---
Titles from past events in this series: