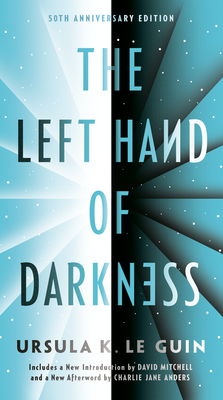 Offsite:
Tuesday, June 20, 7:30 PM
FG Fiction Book Group discusses The Left Hand of Darkness
At Greene Grape Annex
Led by Greenlight general manager Alexis, our fiction book group in Fort Greene discusses paperback fiction, reading broadly in contemporary fiction with the occasional diversion into classics. For June, the group discusses The Left Hand of Darkness, Ursula K. LeGuin's award-winning classic of science fiction literature. When the human ambassador Genly Ai is sent to Gethen, the planet known as Winter by those outsiders who have experienced its arctic climate, he thinks that his mission will be a standard one of making peace between warring factions. Instead the ambassador finds himself wildly unprepared. For Gethen is inhabited by a society with a rich, ancient culture full of strange beauty and deadly intrigue - a society of people who are both male and female in one, and neither. This lack of fixed gender, and the resulting lack of gender-based discrimination, is the very cornerstone of Gethen life. But Genly is all too human. Unless he can overcome his ingrained prejudices about the significance of "male" and "female," he may destroy both his mission and himself.
Greene Grape Annex is located at 753 Fulton Street, across the street from the bookstore.
Current book group picks are always 15% off at Greenlight, in the store or online.
Event date:
Tuesday, June 20, 2017 - 7:30pm

$9.99
ISBN: 9780441478125
Availability: On Our Shelves Now
Published: Ace Books - March 15th, 1987
---