Coming Up Next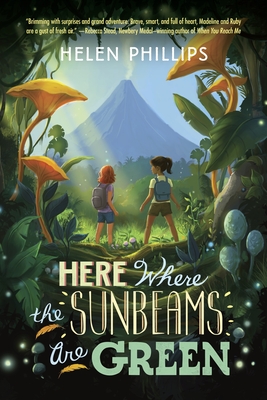 Fort Greene store:
Tuesday, June 27, 5:30 PM
Fort Greene Young Readers Book Group discusses Here Where the Sunbeams are Green
Led by Greenlight receiving manager Grace, our young readers book group in Fort Greene is geared toward kids ages 9 to 12, and reads great contemporary and classic chapter books. Parents are welcome (but not required) to attend, and pizza is served. For June, the group reads and discusses Here Where the Sunbeams are Green by award-winning author Helen Phillips. Mad's dad is the Bird Guy. He'll go anywhere to study birds. So when he's offered a bird-tracking job in Central America, his bags are packed and he's jungle bound. But going bird tracking in the jungle and disappearing completely are very different things, and when the Very Strange and Incredibly Creepy Letter arrives, Mad can't shake the terrible feeling that her father is in trouble. Roo, Mad's younger sister, is convinced that the letter is a coded message. And their mom is worried, because the letter doesn't sound like Dad at all. But Mad is sure it's a sign of something sinister. The only way to get to the bottom of it is to go to Lava Bird Volcano and find their dad themselves. Though they never could have imagined what they're about to discover. Here Where the Sunbeams Are Green is the story of what can happen when two sisters make some unusual friends, trust in each other, and bravely face a jungle of trouble all to bring their family back together.
Current book group picks are always 15% off at Greenlight, in the store or online.
See more
Featured Staff Pick
Greenlight's staff picks are always 15% off, in the bookstore or online!
Click here
for a complete list of current staff picks.
Gail Simone's (New 52 BatGirl, Deadpool, Bird of Prey, etc.) first venture in Horror/Sci-Fi is outstanding. Each page will have you equally more confused and obsessed with what will happen next. Simone's wit and understanding of what makes us the monsters is the real driver behind the story. If you are looking for wonderful art and a daring writing look no further.

Picked by Nicholas in Fort Greene
---
Featured Autographed Book
Greenlight offers autographed editions of books by great authors who have visited the store for readings or stock signings! Click for a full list of signed copies available in hardcover, paperback, and children's books
.